Fortnite v10.30 patch notes reveal big map changes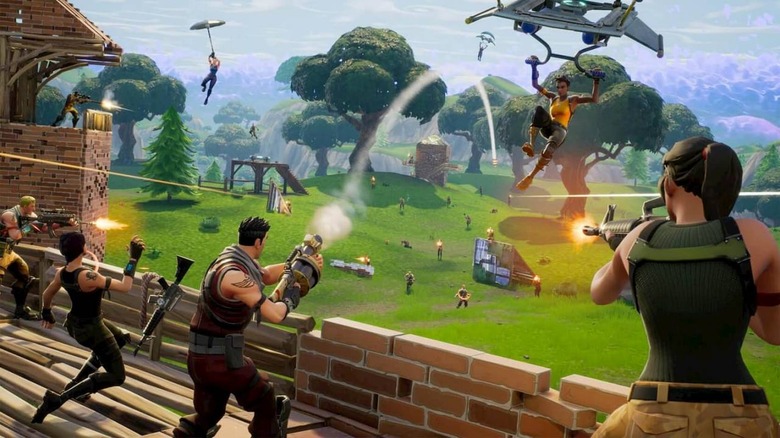 We find ourselves squarely in the middle of the week, and Fortnite players know what that means: a new update has landed. This time around, we actually aren't getting a new weapon or item to use in game, but instead, two new areas have appeared on the map. These new areas will be home to some pretty interesting mechanics, so you'll definitely want to check them out when you get into a game.
The first new area shipping with this week's update is called Moisty Palms. The Rift Beacon at Paradise Palms has created this new swamp-like zone, and when you're in it, crouching will disguise you as a random prop.
This, obviously, will be a good way to observe your surroundings and potentially get the drop on enemies. You can use ADS to lock your movement and look around, while primary fire will let you exit your prop state so you can do battle. Keep in mind that you can still take damage while you're in prop form, so if someone decides to open fire on nearby props while you're disguised, you're not exactly safe.
In addition to Moisty Palms, Greasy Grove is making a comeback with this week's patch. Instead of picking up burgers, however, you'll be procuring some spicy tacos. Every so often, spicy tacos will begin falling from the sky, causing all players in Greasy Grove to break out in dance. When that happens, dancing players will be invulnerable and will regenerate 20 HP per second – assuming, of course, that they aren't in the storm, as dancing won't prevent storm damage and players won't regenerate through it.
You'll also be able to eat the spicy tacos that fall from the sky for an effective 10 health each. In addition to these new places of interest, the Burst SMG has been vaulted while the Tactical SMG has been unvaulted. Epic is also allowing players to vote on which items will be featured in the shop beginning tonight at 8 PM ET – you can read more about that in a blog post dedicated to the topic, or check out Epic's full patch notes for more on this update.