Fortnite v10.10 patch notes: Retail Row, new LTM, and BRUTE tweaks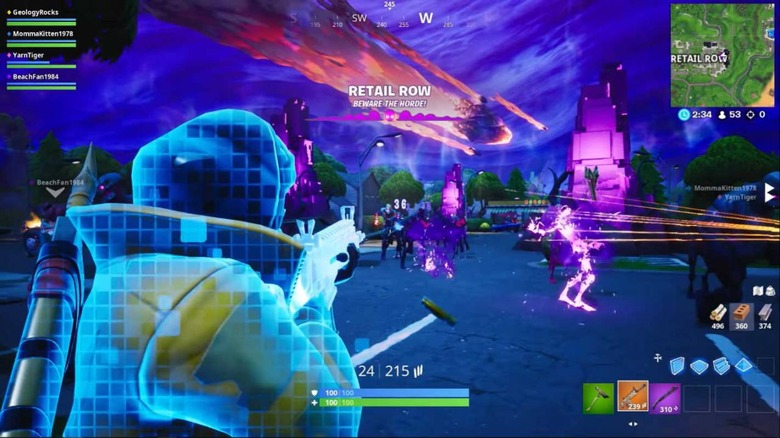 Following the slight delay it experienced, Epic has released Fortnite update version 10.10, bringing a large number of changes, including the previously promised tweaks to its mostly hated BRUTE mech suit vehicle. Upon updating, players now have access to another classic game location, Retail Row, as well as a new Limited Time Mode, Rift monsters, and more.
As anticipated, a Rift Zone has transformed the relatively new and futuristic Mega Mall destination back into its classic Retail Row location, dropping a bunch of glowing purple rocks and Rift monsters in the mix.
In addition to the revived location, Epic has added a new Limited Time Mode with version 10.10 called World Run LTM. In this game, players are required to 'dip, dodge, and duck' through a variety of traps in order to beat 15 other players in the race. The winning team gets 30 coins.
As expected, the patch also brings some additions and changes to weapons and items, including a tweak to BRUTE that adds a targeting laser, a longer self-destruct countdown, better visual and audio alerts related to the vehicle, self-destruct in the Storm, the reappearance of empty suits in the map, and reduced spawn rates in competitive matches.
In addition, Epic has unvaulted the Infinity Blade in new Sword Fight LTMs (and also reduced its environmental damage from 10,000 to 600), increased Tilted Town chest resource stacks from 1 to 3, and fixed a number of bugs, including ones related to hidden Battle Stars, chests, the Tilted Town welcome message, and more.