Fortnite Switch bundle announced with in-game freebies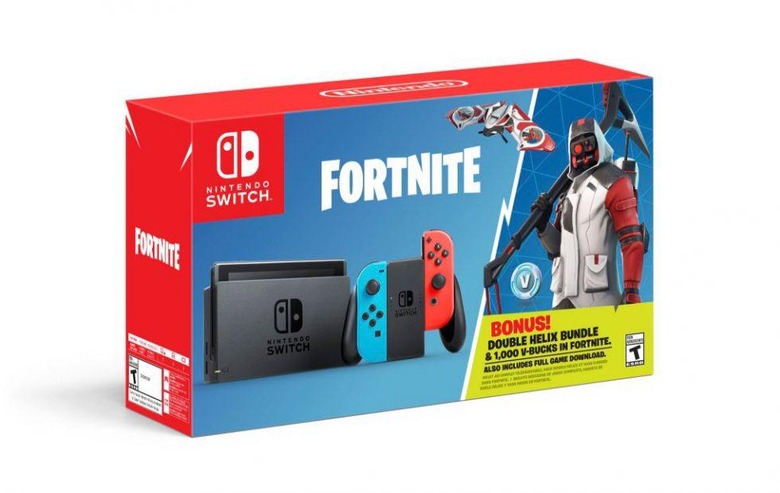 Nintendo is keeping its string of Switch console bundles going, today announcing a new Fortnite bundle. Officially called the Fortnite Double Helix bundle, this joins the recently-announced bundles for Pokemon Let's Go and Super Smash Bros Ultimate, which are all launching later this year. The Fortnite Double Helix bundle will be the first out of the gate, as it's arriving next month.
It might be a little confusing to see a console bundle centered around Fortnite, considering it's a free-to-play game that can't really be discounted in a bundle like this. Even with that in mind, there's still an incentive for Fortnite fans to pick this up, as it comes packed with a few in-game goodies.
The main draw for most players will likely be the Double Helix set, which is comprised of a skin, back bling, glider, and pickaxe. Nintendo calls this set "unique" on its official site, which suggests that it'll be exclusive to the bundle. It also comes with 1,000 V-Bucks, which are Fortnite's in-game currency.
That's enough V-Bucks to cover the cost of a Battle Pass, a seasonal item that unlocks a number of challenges and associated rewards. You can also use the V-Bucks as you normally would to purchase new cosmetics from Fortnite's in-game store, but if you're looking to get the most value out of these V-Bucks, it's probably best to put them toward a Battle Pass.
The Switch that comes in the bundle is just a standard console with neon red and blue Joy-Cons, so no special decals or anything like that. The nice thing about the Double Helix bundle is that it only costs $299.99, which is the same price the Switch usually sells for. If you've been thinking about getting a Switch and you're a big Fortnite fan, then, this is definitively something to consider as the Double Helix set and V-Bucks are essentially free. It'll launch on October 5, and the retailers that will carry it will be revealed soon.