Fortnite Star Wars skins let you play as Rey, Finn, or a Sith Trooper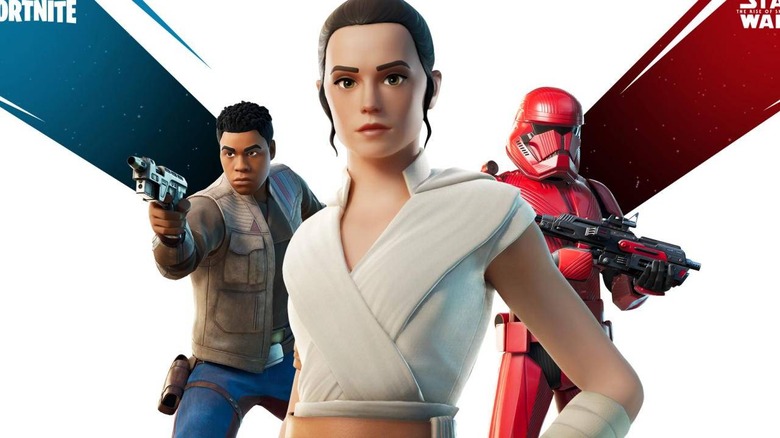 In just a week's time, the world and entertainment industry will finally put a close to a saga that was 42 years in the making. Of course, that means that we are about to get inundated with merchandise and tie-ins to what could be this year's biggest box office event next to Avengers: Endgame. That isn't just for physical products either, as the Star Wars: The Rise of Skywalker fever hits virtual worlds as well, including new skins for Fortnite that lets you play as two of the franchise's newest sweethearts.
Fortnite skins are one of the game's biggest ways to make a quick buck and Epic Games is no stranger to skins that tie into films and other fictional characters. There was, for example, Batman and Catwoman skins that celebrated the character's anniversary and Black Widow and Star Lord skins in time for Avengers: Endgame. More recently, Fortnite also introduced Imperial Stormtrooper skins to tie-in with the launch of the Star Wars Jedi: Fallen Order game.
This latest drop, however, could be the most significant skin additions (next to Batman). The skins let Fortnite players dress up as the two protagonists of the final trilogy in a trilogy that spanned decades. Oh, and yes, they can also be a crimson Sith Stormtrooper if that's their thing.
The skins cost 1,500 V Bucks a piece, or 1,200 for the First Order Tie Fighter. You can, however, save some money and grab a six-item bundle instead for $3,500. Epic Games reminds players that all of these are simply cosmetic with no gameplay advantages but that might be enough to give players a bit of a morale boost in playing as a Star Wars favorite.
Live from Risky Reels Fortnite Presents: #StarWarsTheRiseOfSkywalker exclusive scene premiere.

Watch it live on December 14. Doors open at 1:30 PM ET, show begins at 2 PM ET.

You won't want to miss this 👀 pic.twitter.com/xRD0ynjaJT

— Fortnite (@FortniteGame) December 7, 2019
The collaboration between Epic Games and Disney doesn't end there. Perhaps even bigger than the skins is an in-game event on Saturday that will show an exclusive, never-before-seen footage from the film. Star Wars: The Rise of Skywalker premiere December 20 with a red carpet screening on the 16th.