Fortnite season 4 is here and it makes some massive changes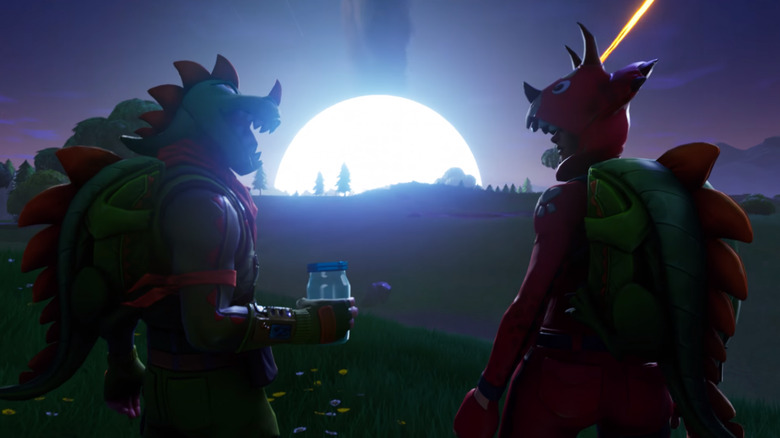 Following a period of downtime in the early morning hours, Fortnite is now back up and season 4 has begun for Battle Royale players. As we all assumed, some big changes have been made to the map – the comet has landed, and it's taken out one of the game's named areas. Unfortunately, everyone who was expecting these meteors to destroy Tilted Towers are going to be disappointed.
Instead, the most damage has been done to Dusty Depot, which has been replaced with a crater. We can probably expect the Dusty Depot crater to be a popular landing spot in the early days of season 4, as it hosts a variety of glowing "Hop Rocks" that grant a new low gravity mechanic when consumed. Of course, other areas were damaged by the impact, and these Hop Rocks can now be found all over the map.
There's been a new area called Risky Reels added in the map's northern area too. We actually get a glimpse of Risky Reels in the announcement trailer Epic has put together for season 4. Just like Dusty Depot – which has been renamed Dusty Divot – expect this drive-in movie theater to be a hectic spot as season 4 gets underway.
As expected, Epic has launched a new battle pass for season 4, with plenty of skins themed around superheroes to unlock. The season 4 battle pass will cost 950 V-bucks ($9.50) and includes the standard 100 tiers of loot. As we're expecting season 4 to last for a few months, you should have plenty of time to unlock all 100 tiers if you play Fortnite frequently.
Over on Epic's website, the season 4 patch notes give us an even better idea of what to expect. There are plenty of bug fixes coming along with this update, as well as few weapon tweaks. Perhaps the biggest change (aside from what's different about the map, at least) is that the Crossbow has been put into the vault, so if you've become proficient with that weapon, you're going to have to go without while Epic tweaks it behind the scenes.
Make no mistake, there's a lot that's changed with the arrival of season 4. Exploring the map to see what's different should be an exciting endeavor for Fortnite veterans, and these new areas that have been added with the comet's landing are definitely worth exploring. Fortnite season 4 is live now, so dive in and chase some wins.