Fortnite Psycho Bundle offers free gear with Borderlands 3 purchase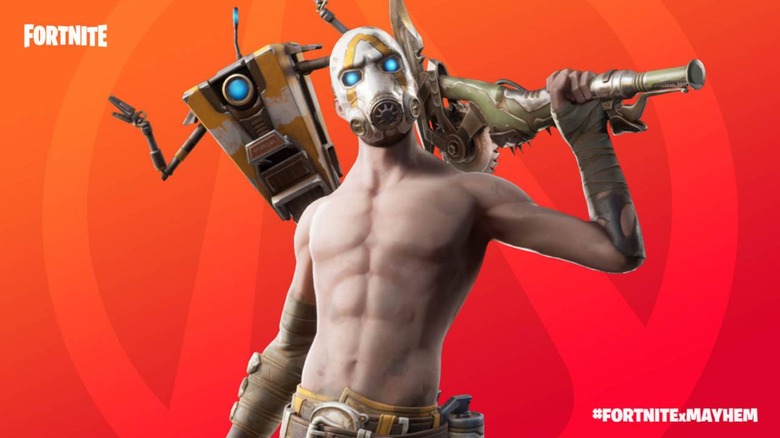 On September 13, Gearbox will release Borderlands 3, the latest installment in the popular game series. Ahead of that comes a new gear bundle from Epic Games called 'Psycho,' one that features in-game Fortnite items themed after Gearbox's new game. The company is offering its Psycho bundle for free to anyone who pre-orders or purchases Borderlands 3, but only if they do so before the offer's deadline.
Epic announced the Fortnite x Mayhem event in late August, during which time players were able to visit a Borderlands-themed destination in the game's desert biome. Players can unlock certain Borderlands cosmetics in Fortnite by completing the Welcome to Pandora challenges.
If you're planning to purchase Borderlands 3 — or if you've already pre-ordered the game — you can instead get the more robust Psycho Bundle for free. In order to do that, you'll need to buy Borderlands 3 from the Epic Store — either of the three available game editions will let players redeem the bundle.
The bundle includes the Psycho character skin, Claptrap back bling, and the pickaxe featured in the image above. You must purchase Borderlands 3 before December 31 to get the free offering; because it is purchased in the Epic Store, the bundle will automatically be added to the buyer's Fortnite account.
These bundle items join the Vault Hunter Banner, Crunk Bunny Spray, Mayhem weapons wraps, and Psycho Spray included in the Pandora Challenges. Assuming you previously purchased the Psycho Bundle when it was available in the Fortnite item shop, Epic will instead give you 2,000 V-Bucks for purchasing Borderlands 3.