Fortnite players get free V-Bucks over false ban warnings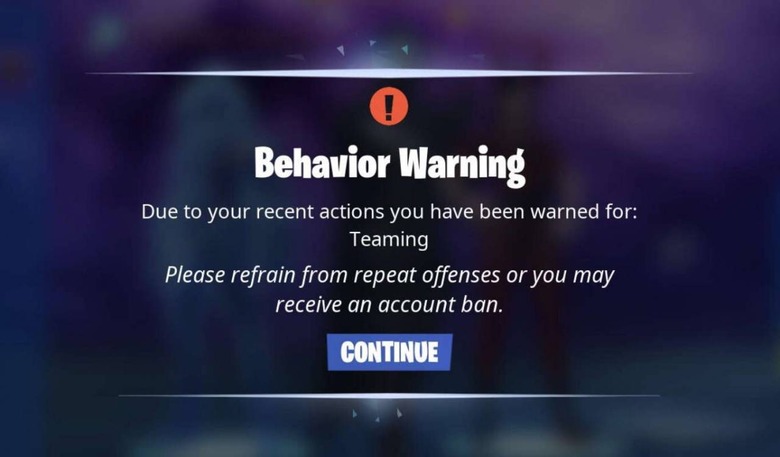 Earlier this week, Fortnite players were caught off guard by the sudden appearance of a warning screen that threatened to ban the player's account over 'teaming.' The warning was appearing for users while they were spectating players who were still in the match, resulting in concerned posts on Reddit and Twitter. Epic is using V-Bucks to make up for the scare.
According to players who saw the issue, the Fortnite bug was causing the 'Behavior Warning' screen shown above to appear during spectating. Players expressed concerns that the bug may actually result in an account ban; Epic acknowledged it soon after it went viral on the FortniteBR subreddit, stating that it would investigate the issue.
It seems it didn't take long for Epic to iron out the problem and now players are reporting that they've received 1,000 V-Bucks as compensation for the issue. This gift is appearing automatically in affected users' accounts when they log into the game.
Epic are sending out 1,000 vbucks if you were falsely warned for using the spectate feature from r/FortNiteBR
The gift is the equivalent of around $10, making it a fairly substantial apology. Users can spend the V-Bucks on the game's Item Shop for weapon wraps and skins or save it to buy the next Battle Pass in coming weeks. This isn't the first time Epic has offered V-Bucks or other items for players impacted by bugs.
Earlier this summer, for example, Epic issued 15 Battle Stars and 1,000 V-Bucks to players who were impacted by various mobile issues that had hit its iOS app. Most game bugs, of course, are fixed without any sort of gift to players -- these are reserved for unique scenarios.