Fortnite Players Are Instantly Dying In This Popular Tilted Towers Spot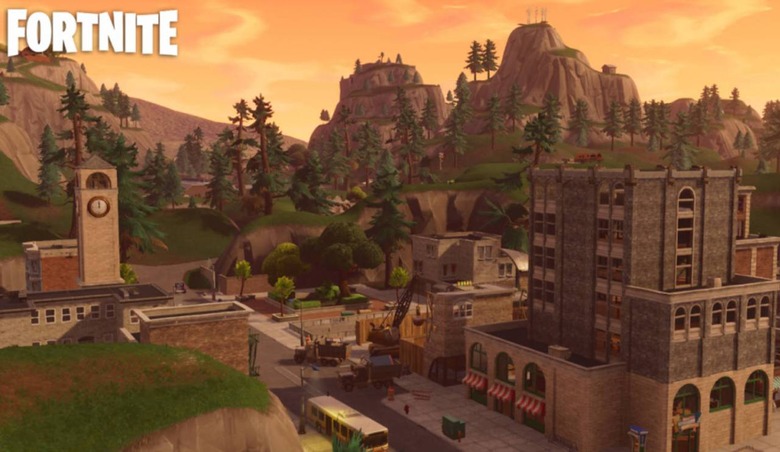 Fortnite is all about survival, and that makes glitchy 'instant death' spots extra frustrating. Players have reported these random, unintentional elimination points multiple times in the past, including in areas near Fatal Fields and, more recently, near the volcano. Yet another instant death spot has been discovered, this time in Tilted Towers.
An instant death spot, at least in Fortnite terms, is an area on the battle royale map in which a player will instantly be eliminated with no outside interference. In some past instances, players report being eliminated due to 'fall damage' in these areas. Others cause death for no apparent reason.
Beware of the shady pawn shop cellars! We're aware of an issue with players being eliminated when walking down into the cellar of Knepley's Pawn Shop in Tilted Towers.

We're working on a fix.

— Fortnite (@FortniteGame) May 2, 2019
Epic has acknowledged reports from players in confirming a new instant death spot that will be fixed soon: the cellar of Knepley's Pawn Shop in Tilted Towers. Though you may not be familiar with the name, you've no doubt visited this area before.
The pawn shop is the small building located just behind the clock tower next to the overpass. This building, which has survived through multiple seasons, features some crates hiding a hole in the floor. If you go down that hole, you'll find a small cellar with two chests and some pallets...and, for now at least, you'll also die instantly.
This is an unfortunate problem given the spot's popularity. While past instant death spots have already resulted in spontaneous eliminations, those areas were also far more obscure, usually only resulting in multiple kills when players tried to retrieve fallen players' loot. The cellar is a common destination for Tilted Towers drops, making it far more deadly.