Fortnite may finally get Locker presets: Here's how they'll work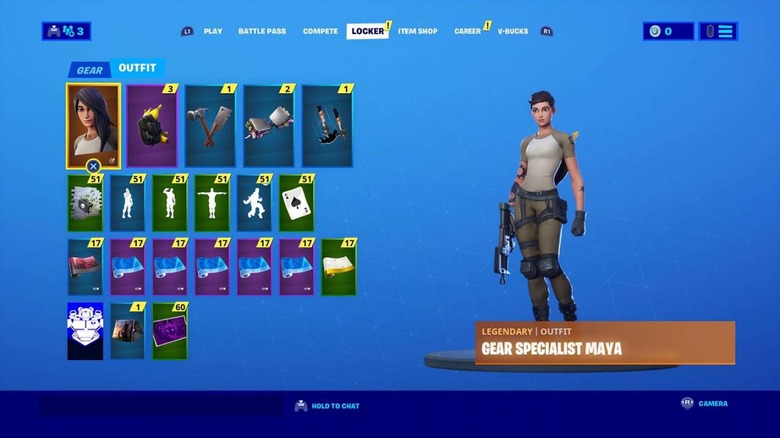 Epic has successfully sustained Fortnite over more than 10 seasons, the result being a huge number of skins and other cosmetic items that fill players' game Lockers. Players who have been around for a while or who have purchased a substantial number of items have been asking for better Locker management tools, one of which Epic released last year. A new leak indicates Epic may be planning to add another improvement in the form of presets, as well.
The Fortnite Locker is the tab where players find the skins, weapon wraps, back bling, and other items they've received from past purchases and Battle Pass rewards. These items are categorized based on things like outfits and pickaxes; last year, Epic also added the ability to search for items using text.
I'm kinda late, but Locker Loadouts are coming soon, you can also give the loadout a name and you can favorite loadouts! (the last image is just a concept) pic.twitter.com/IduvZmlHNo

— HYPEX (@HYPEX) February 21, 2020
According to a new leak from HYPEX, Epic may expand upon that with the addition of presets. This tool would enable users to choose an entire loadout — skin, weapon wrap, back bling, and more — and save the entire kit as a single preset. The feature is referred to in the leak as 'Locker Loadouts,' but it's unclear whether that will be its official name (assuming the feature is launched, of course).
It's easy to see why this feature would be useful. Many players have dozens of skins and other cosmetics but likely have selected a handful as their favorites. Switching to a new skin can be a time-consuming process if you also have to manually change the pickaxes, back bling, glider, and other items.
The image in the tweet above is just a concept — the actual presets feature, assuming it is released, will likely look different. It's unclear how many presets Fortnite will allow players to create, but the leak indicates that users will get to choose their own names for each loadout.