Fortnite leak hints at tornado grenades, cloning machines, new traps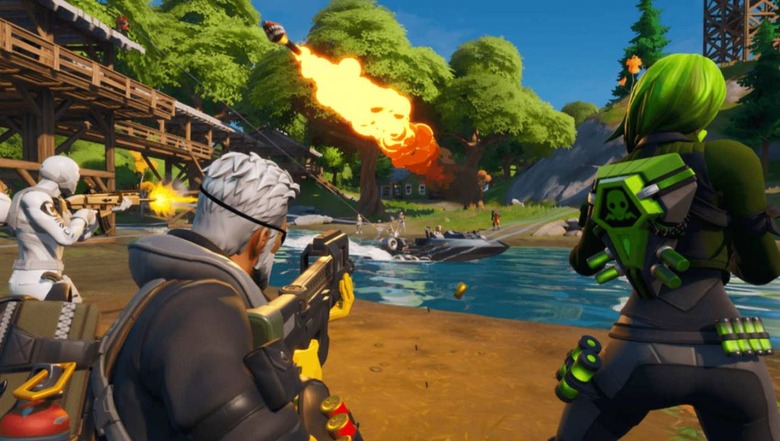 The new version of Fortnite battle royale brought a number of new items and major changes to the map, including robust bodies of water, boats, and the ability to hide in dumpsters. Players are expecting to see new items and consumables appear throughout the first season of the game's second chapter, and now a new leak has offered a look at what those items may include.
The latest leak comes from well-known Fortnite dataminer HypeX who cites another dataminer, "spedicey1," in a tweet about the leak. A number of codenames referring to in-game items, including traps and consumables, were discovered in the game files.
Upcoming (or maybe scrapped) Items codenames (@spedicey1):

Gadgets:
- Doodle
- Heart
- Scooter

Traps:
- Cage
- Surprise Party

Consumables:
- Tornado Grenade
- Clone Machine
- Chug Stand
- Pool Floatie

— HYPEX (@HYPEX) November 7, 2019
Though some of the codenames are pretty much impossible to decipher, such as the "heart" gadget, others are straightforward, including mention of a cloning machine, tornado grenade, chug stand, and pool floaties. There's also word about a new trap that comes in the form of a cage and a mysterious trap called "Surprise party."
A big question remains: are these items that Epic plans to release into the game in coming weeks or are they codenames for existing items that were intended to obfuscate them? Or, similarly likely, are these items that were considered but may not ultimately be released into the game?
It's impossible to say, but there's a decent chance we'll see these items appear in the game at some point. Past leaks from dataminers have accurately hinted at future changes, including the long list of new POIs that surfaced before the new island was confirmed. There's no way to say which updates these items may arrive in, however.