Fortnite island faces destruction as Loot Lake orb starts splitting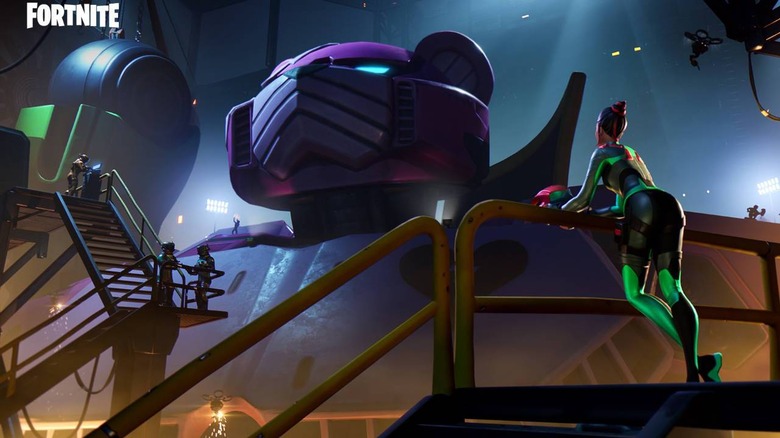 We're days away from the arrival of Fortnite's Season 10 Battle Pass and things are getting interesting. Last weekend's 'Final Showdown' between the Polar Peak monster and the giant robot wasn't the end of the game's Season 9 action. A huge orb of energy at the Look Lake vault has become unstable and is starting to split apart, threatening destruction across the battle royale island.
Last weekend, Epic held its latest live event in Fortnite, one involving a major live battle between the monster released from Polar Peak and the robot constructed at Pressure Plant. Players were able to watch the battle live, including one key moment: when the robot pulled a giant glowing ball of energy from Loot Lake.
Cattus drew energy from this glowing orb, then dropped it over the Loot Lake vault and vanquished the monster. The battle is over, the monster is dead (and now exists as a giant mossy skeleton on the island), and Loot Lake is now home to a big glowing ball of energy. That orb has started to break apart with waves of energy emanating from it.
Players have anticipated major changes to the Fortnite battle royale island, ones that'll likely take place after the game's World Cup Finals. On July 24, players noted that the orb has started breaking part — bright glowing fissures have appeared on the sphere's surface amid a Kevin-color purple body and rolling waves of light blue energy.
I have found three particles in the event files:
P_CattusDoggus_Destabilize
P_CattusDoggus_Destabilize2
P_CattusDoggus_Destabilize3

I supose these are three stages for the Nexus Orbit. First one being visible now and the other two later, leading up to season 10. pic.twitter.com/hWuSuuUWHq

— FortTory – Fortnite leaks & news (@FortTory) July 20, 2019
This is only the first stage of what will be three total stages as the energy ball becomes increasingly unstable, at least according to a leak from known Fortnite leaker @FortTory (above). The same leaker has also shared images showing the orb's changes since the event:
How the Orb has changed over the past four days. pic.twitter.com/6pw19YjFbG

— FortTory – Fortnite leaks & news (@FortTory) July 23, 2019
Though we don't know what Epic has planned for the end of Season 9 and beginning of Season 10, players are anticipating arcing destruction from the powerful — and highly unstable — Loot Lake orb.