Fortnite Boom Bow weapon is official: Everything we know so far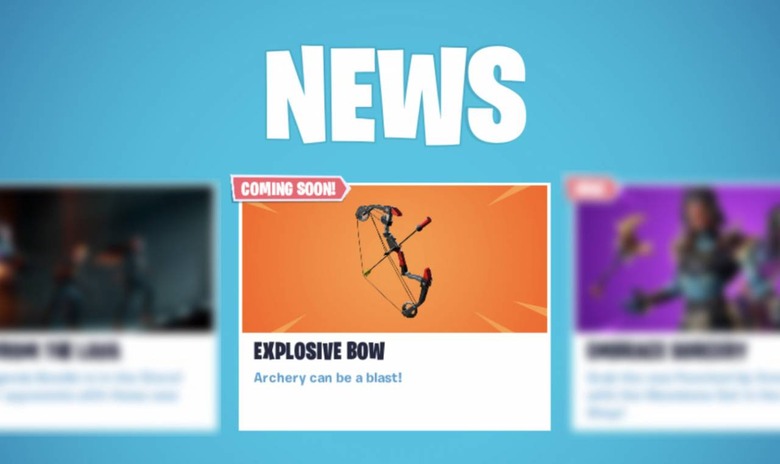 The release of Fortnite Season 8 imagery included the presence of a weapon that hasn't yet appeared in the game: a compound bow with what appears to be an explosive arrow. The item has been anticipated since the latest season's arrival and now, it seems, we'll be getting access to it starting this week. The item has officially appeared in the Fortnite in-game news feed.
The new weapon is being referred to as the Boom Bow and it will arrive in the Fortnite version 8.20 Content Update scheduled to launch early Tuesday morning. The new bow will be available to players in the game's battle royale mode, offering an alternative to the crossbow item introduced over the previous Halloween season.
Animations + Sounds for the upcoming Explosive Bow!

(already leaked these but now I combined them) pic.twitter.com/EmzY2bgFdR

— FortTory – Fortnite leaks & news (@FortTory) March 31, 2019
The Boom Bow first appeared in a pair of leaks in March, including one from leakster "FortTory," who shared a rough render of the weapon, an animation of it in action, and the related sound effects. The item's appearance in the Fortnite news feed indicates we'll be seeing it arrive in-game very soon.
A different leak the same week by Twitter user "Lucas7yoshi_" claimed the Boom Bow will be 'Legendary' tier and use shotgun shells as its ammo. It's unclear whether the weapon's ammo will pull from the existing shotgun shells the user has in their backpack or if the bow will come with an unlimited amount of arrows like the crossbow.
Boom Bow
Legendary
Ammo: Shotgun Shells (Unconfirmed, may be infinte or have a cool down or something, not sure)

Reload: 1.296 (i THINK it means seconds)

Full dump of stats if you can figure them out lol: https://t.co/E4hO3dWj7l pic.twitter.com/NFhsciIX5y

— Lucas7yoshi – ??? something. maybe (@Lucas7yoshi) March 28, 2019
Epic's teaser image appears to confirm the weapon's 'Legendary' tier due to the golden background used for the image. The company didn't provide any details about the item, however. In a tweet today, Epic said players will get the version 8.20 Content Update at 8AM ET on April 2; there won't be any downtime.
Ready your bows! 💥🏹

The v8.20 Content Update arrives tomorrow, April 2 at 8AM ET(1200 UTC). No download or downtime required.

— Fortnite (@FortniteGame) April 1, 2019