Fortnite Bluetooth controller support detailed for iOS and Android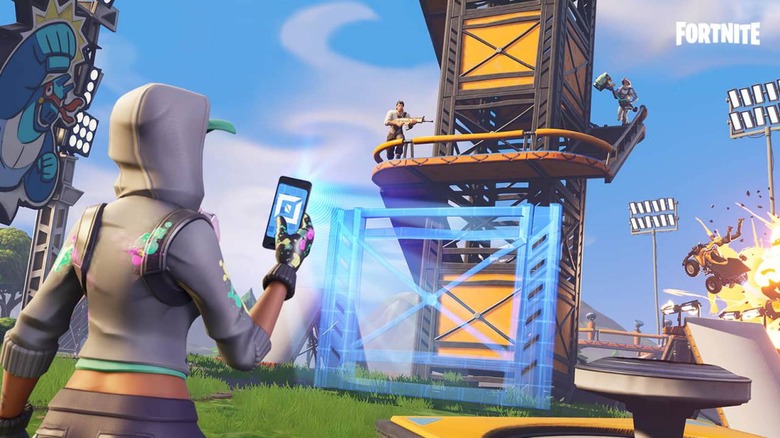 Fortnite's latest update brings a good amount of new stuff with it, but perhaps most exciting is support for Bluetooth controllers on iOS and Android. This new functionality means that players are no longer limited to just touchscreen controls while playing on mobile, and if you use your phone as a secondary Fortnite platform to your console, the fact that you can now use a Bluetooth controller on mobile is probably very happy news indeed.
In its patch notes today, Epic explains which controllers are compatible with Fortnite on both Android and iOS. Epic says that "most Bluetooth controller adapters" should work on Android, but lists controllers like the Steelseries Stratus XL, Gamevice, Xbox One, Razer Raiju, and Moto Gamepad controllers as a few specific examples.
Over on iOS, users are limited to MFi controllers. That obviously narrows the field of compatible Bluetooth controllers a bit, but gamepads like the ones in SteelSeries' Nimbus line and the Gamevice controller are some of the options iOS gamers have. Finally, Epic says that vibration will be disabled when a controller is connected, so you don't have to worry about enemy fire knocking your phone out of place as you play.
Some Android users will also see 60Hz support go live today too. Epic says that it's been working with phone manufacturers to optimize the game for 60Hz gameplay, but for the moment, it's only launching on three different Android models: the US Galaxy Note 9, Huawei Honor View 20, and Huawei Mate 20 X.
We'll likely see more Android phones begin to support 60Hz Fortnite as time goes on, but for now, it's limited to just those three. You can read all of Epic's patch notes for the day over at the company's website, but be sure to head down to the comments section and let us know if you're planning to play Fortnite on mobile with a controller.