Epic Games' Fortnite for Android is about to be a disaster of a launch from the get-go. Their plan appears to be launching exclusively with the Galaxy Note 9, for starters. That'll last about a month, then the game will launch for all other Android devices – which of course means they'll launch for a limited set of Android devices based on their own internal testing and their preferred manufacturers.
Epic Games takes a gamble
Source code deciphering done by some XDA Developers users (EDIT: Apparently Reddit user thesbros) found some very interesting factoids about the Fortnite release on Android. Based on what they've found, it seems inevitable that the launch of Fortnite will be through a side-loaded game file. That's probably going to be an issue for quite a few Android device users.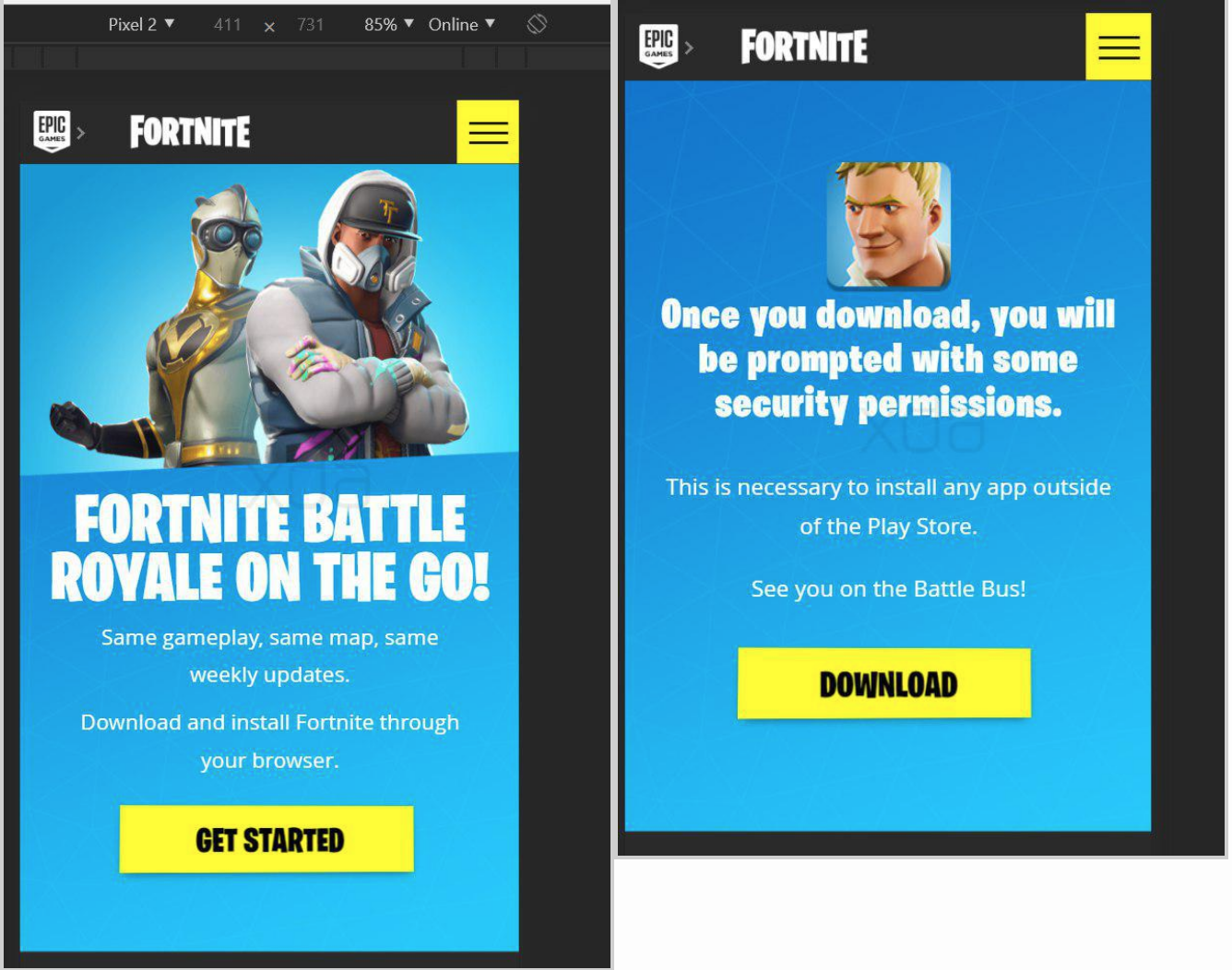 Downloading an app outside the Google Play app store isn't something most users have done. It's not quite the completely-unheard-of task that it is on iOS devices, but it's not particularly common, either. When the file is released, gamers will need to do some Settings changing.
Most Android devices have a setting that disallow them downloading and loading apps outside the Google Play app store. This switch is accessible to all users, but it's not recommended by Google. Google recommends users stick with Google Play-downloaded apps because they've already done all the security checks users should go through before loading an app.
Google also wants people using Google Play because using Google Play makes Google earn money. But the risks one takes when downloading apps outside of Google Play are larger than the average Android user should want to take. One bad app could mean the compromising of one's phone – and likely one's entire personal data.
Epic Games pushing people to load their app in this manner isn't in itself dangerous, but it opens a real pandora's box of possibilities. It'll open up the door to hundreds and thousands of new users to the possibilities given in side-loading apps (that's what it's called when you load an app outside the Google Play app store, if you do so wish).
Watch out for fakes
Several times over the past few weeks we've had to send up warning flares for the appearance of fake Fortnite APK files across the web. Users of Android devices are targeted en masse when it comes to new games – especially when those games are inevitably massively popular. With Fortnite, there's been a relentless stream of fakes aiming to attack unsuspecting Android phone users of all sorts.
The only true Fortnite download for Android isn't out just yet. Any download of a Fortnite APK – or any other sort of file on Android – is a fake, right this minute. Once the real deal is released, we'll let you know, as early as possible.
Limits on Phones
As mentioned above, the first phone that'll have access to Fortnite will be limited to the Galaxy Note 9, then the rest of the phones on this list. The list was found in the source code for the Fortnite Mobile webpage – and might not be entirely complete. We'll know soon enough!
• Google Pixel 2, XL
• Huawei Mate 10, Lite, Pro
• Huawei P10, Plus, Lite
• Huawei P9, Lite, Lite 2017
• LG G6
• LG V30, Plus
• Motorola Moto E4 Plus
• Motorola Moto G5, Plus, S
• Motorola Moto Z2 Play
• Nokia 6
• Razer Phone
• Samsung Galaxy A5 ('17), A7 ('17), J7 Prime ('17), Pro, On7 ('16)
• Samsung Galaxy Note 8
• Samsung Galaxy S9, Plus
• Samsung Galaxy S7, Edge
• Samsung Galaxy S8, Plus
• Sony Xperia XA1, Ultra, Plus
• Sony Xperia XZ, S
• Sony Xperia XZ1
It would not be a shocker to find that phones not on this list work just as well – especially newer phones. I'd expect devices like the Google Pixel 3, Pixel 3 XL, Galaxy Note 9, Motorola Moto Z3, Z3 Play, and every phone with Android Oreo or higher to work in at least some capacity.