Forrester survey shows first ever "decline" in Internet usage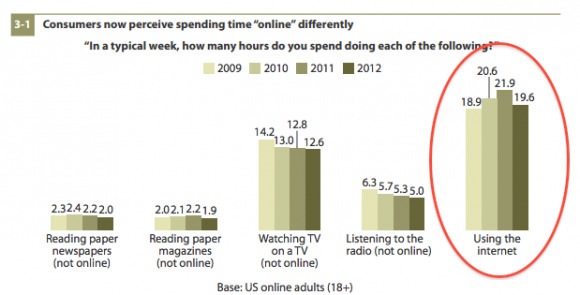 For the first time ever, a Forrester survey on Internet usage found that users report spending less time online than they did in 2011, nearly back to the average duration reported in 2009. According to Forrester, this data likely doesn't demonstrate a true drop in Internet usage, however, instead representing a change in the notion of what it means to be online. The information comes from a survey of 58,000 US adults.
Forrester had this to say on the subject:
"Our analysis revealed that "being online" is becoming a fluid concept. Consumers no longer consider some of the online activities they perform to be activities related to "using the Internet." ... The Internet has become such a normal part of their lives that consumers don't register that they are using the Internet when they're on Facebook, for example. It's only when they are actively doing a specific task, like search, that they consider this to be time that they're spending online."
Not only does the data show a decline in reported Internet usage, it also demonstrates a decline in the number of (US-based) consumers who own a laptop, netbook, or desktop. The data shows that smartphones and tablets are primarily used (in relation to the Internet) to access social networking websites, while consumers still prefer either a laptop or a desktop for performing other, more "serious" tasks. This delineation between PC and mobile device usage may indicate that Internet users don't consider the times they pull out a smartphone or tablet as "being online," but rather only when they sit down and perform a specific Internet-related activity on the computer.
According to the survey, the average number of hours a US adult spent online dropped from 21.9 in 2011 to 19.6 in 2012. In addition, the data shows a steady drop since 2009 in reported hours spent listening to traditional radio, a three-year decline in reading non-online newspapers, a slow drop since 2009 in watching TV, and the first drop since 2009 in the number of hours spent reading magazines. All activities in the survey were of the non-Internet variety, meaning that listening to the radio, for example, did not factor in time spent listening to Internet radio.
[via AllThingsD]