Forget XOOM, sue your rivals instead analyst advises Motorola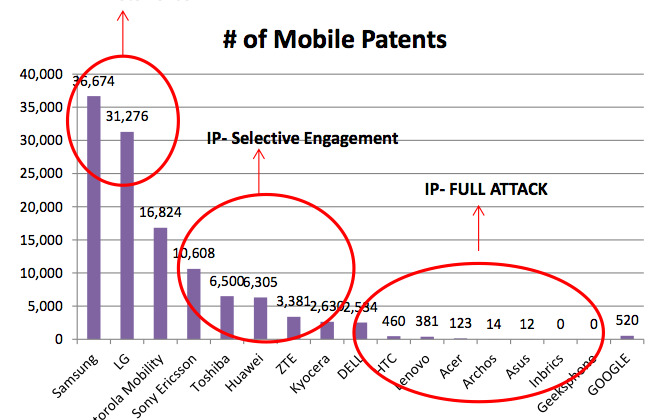 Since you can't beat 'em, sue 'em – that's the advice from one analyst to Motorola Mobility, who calls the Motorola XOOM a failure, Honeycomb "dead on arrival" and the Android Market "a disaster." Global Equities' Trip Chowdry throws out a hugely-ranging estimate for the number of XOOM tablets sold – between 15,000 and 120,000, he reckons – and suggests that, Fortune reports, rather than attempt to compete with Apple and RIM, Motorola should aim to pick off its Android OEM counterparts with patent lawsuits.
In fact, Chowdry even puts together a handy chart – shown above – suggesting which of its rivals Motorola should target with a "full attack." HTC, Lenovo, Acer, Archos and ASUS are among those particularly weak, the analyst suggests, since they have a far lower number of mobile patents than Samsung, LG and Motorola's other rivals. "Selectively attacking with patents other Android phone OEM's is a better strategy" he advises, rather than the current "competitive fixation" on Apple.
Motorola took a gamble with the XOOM, pushing the tablet out onto the market when the hardware and software weren't quite ready, on the basis that it was best to be first on shelves. The company is yet to confirm any official sales figures, though Verizon has said that it is "satisfied" with demand for the slate.
Still, it's worth remembering that this is the same Trip Chowdry that predicted Steve Ballmer would make an appearance at the WWDC 2010 keynote, something that unsurprisingly failed to take place.