Ford's MyFord app hits Android Wear as Sync 3 debuts in USA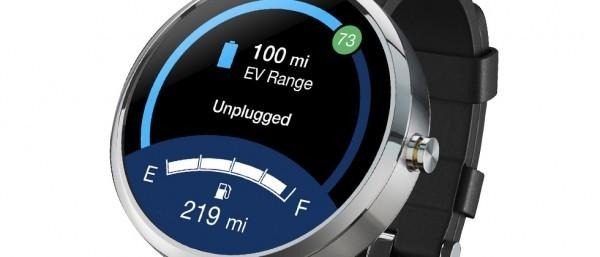 Ford boosts its smart functionality and connectivity technologies this week with a new MyFord Mobile app extension and SYNC 3's release in North America. Ford suggested this afternoon that the MyFord Mobile app extension would be coming soon "for smartwatches," including Android Wear and eventually very likely the Apple Watch as well. Ford's news in the in-car infotainment environment included a confirmation of which vehicles the SYNC 3 system would be debuting in inside North America. These systems work with AppLink as well.
The Android Wear-based MyFord Mobile app extension allows users to check driving range and battery charge for plug-in hybrid or electric vehicles. It also allows them to track their vehicle – very useful at the grocery store for figuring out where they last parked.
Above and below you'll see images of this system in play. You'll see a plugged in/unplugged status as well as fuel gauge readout. This system also allows you to lock and unlock the vehicle it's connected to through your phone with your smartwatch.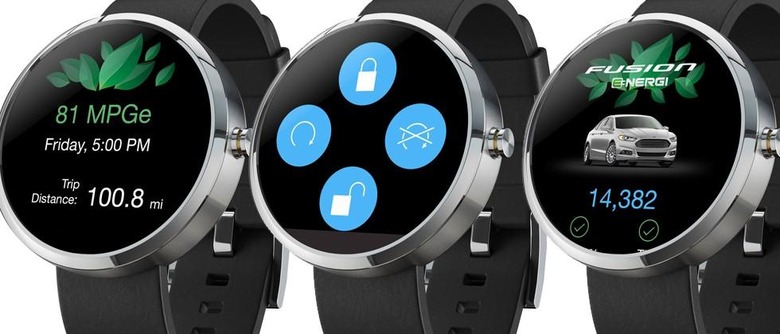 The watch you're seeing here is the Moto 360 by Motorola.
Ford confirmed the vehicles SYNC 3 would be debuting in inside North America, including the 2016 Ford Escape, Fiesta, F-150, Mustang and Transit. For more information on SYNC 3, have a peek at our feature Living with Ford SYNC 3 right this minute.