Ford Wraps 2014 Fiesta In Bacon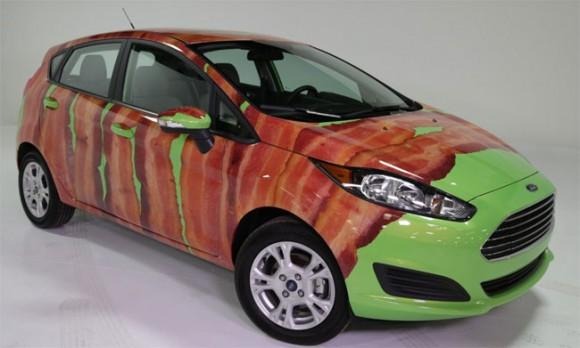 I, like many other bacon purists, firmly believe that bacon is proof God loves mankind the most. Ford has created the most appealing 2014 Fiesta ever to roll the streets in celebration of International Bacon Day coming on August 31. Yes, that is indeed a holiday celebrating bacon.
Before you get too excited, the car isn't wrapped in real bacon. That would clearly be an unauthorized waste of good bacon. Ford showed good sense and created a bacon wrap designed specifically to fit the 2014 Ford Fiesta. If your love of salty pork is unwavering, you can even purchase your own bacon wrap for your Fiesta.
The Ford Bacon Wrap has 10 gigantic strips of bacon rolled around the Fiesta. Perhaps more suited to the sporty types out there that a full on bacon wrapped would be the epic bacon racing strips. Think two pieces of bacon that span the car's hood looking like traditional racing stripes.
Buyers can also opt for the side of bacon, which features two individual strips of bacon that wrap over the rear wheels. If you're not a fan of pork or prefer to keep your love of bacon on the down low, Ford offers a number of other custom exterior vinyl graphics for you to choose from that are custom-made to fit the 2014 Fiesta.
SOURCE: Ford