Ford Roximity location aware deals app now available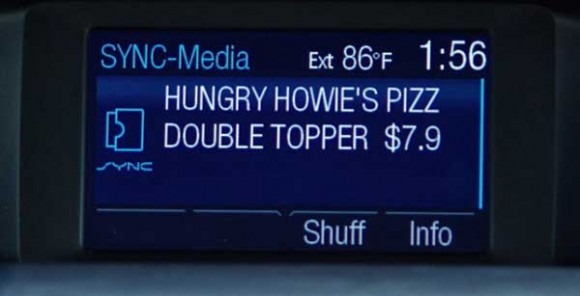 Ford has announced a new and very interesting app is now available for drivers who own vehicles supporting Sync AppLink. The app is called Roximity and was the winner of the Ford Sync App Developer Challenge held at the 2011 Disrupt Hackathon. The app is available for iOS devices and adds some very interesting functionality for drivers.Roximity is a location aware service that lets drivers know about deals offered at surrounding businesses as they drive. The idea is to let you know if a shop you're about to drive by has a special on an oil change or if that pizza place up the block is having a sale that you might want to stop in and try out. Users of the app can enter individual preferences and interests so the app can tailor the offers it shows to their specific needs.
Roximity requires that the user connect their iPhone to Sync via USB and activate AppLink. Once the iPhone is connected to the car via the USB port, the driver can use their voice to ask the app to offer any special deals nearby in specific retail categories. The designated retail categories include restaurants, home services, spas and salons, and men's or women's clothing.
Ford also points out that Roximity is the first app to have AppLink compatibility at launch. The app is available at no cost and will be offered for other devices. The app developers say that as the user interacts with Roximity it will learn their preferences and patterns to offer more deals. The user does have complete control over the number of deals the app reports each day or week. The app also has the ability to announce deals verbally so drivers don't have to take their eyes off the road.