Ford Raptor Limo Spied In UAE Has Six Doors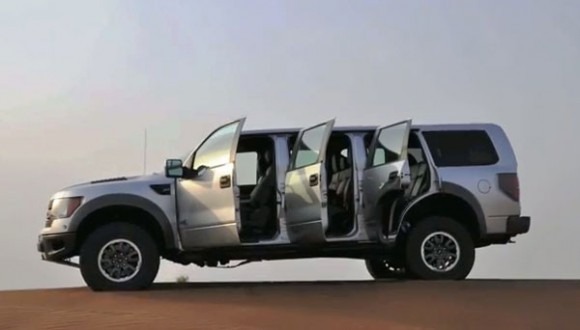 The Ford Raptor is an awesome truck just as it comes from the factory. The Raptor is made for desert racing and all the other things you can get up to in a 4x4 truck of its caliber. Someone over in the UAE took their Raptor to the next level and made it into a limo. I have seen a bunch of hummer limos of this sort running around, but the Raptor version is much cooler.
You can get the Raptor with a 4-door quad cab. I would assume that is the base for this 6-door project. Looking at this truck really makes me think that a Raptor SUV direct from Ford would be really cool. It would be a given that this enclosed version with extra doors would be heavier than the factory version, and lose some performance.
Thankfully, the Raptor has a giant 6.2L V8 under the hood and there are plenty of aftermarket parts to give the beast more power to make up for the extra weight. The Raptor has had some instances of the frame bending under certain conditions. I wonder if the builder took that into consideration when putting this Raptor limo plan in motion. Check out the video below to see more about the cool truck.
[via Autoholics]