Ford self-driving pizza delivery launches Miami autonomous trials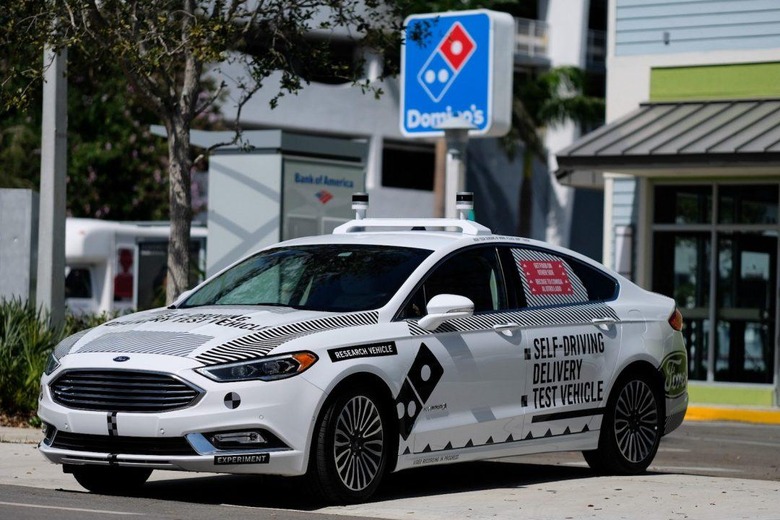 Ford is setting self-driving cars loose in Florida, picking Miami for the automaker's first autonomous vehicle business. New pilots with partners like Domino's Pizza and Postmates will kick off through 2018, Ford says, ahead of its full driverless car launch which is still scheduled for 2021.
It also sees Ford open up its first autonomous vehicle operations terminal. Effectively for self-driving cars what a bus depot is for buses, the facility will be close to downtown Miami and store the fleet of driverless vehicles as well as provide a site for maintenance and remote management. For cars that take passengers, it'll be the place where Ford valets the cabin; all vehicles will need to have their sensors and cameras cleaned, and other hands-on servicing that can't be completed via an OTA update.
While it may be the launch of a commercial service, it'll also be an opportunity for Ford to gage reactions to the driverless cars – both from businesses and the general public. For business users, the focus will be on the practicality of the vehicles, and how they fit into existing workflows or demand new accommodations. That includes factors like how employees prepare autonomous vehicles before they make a delivery, such as how easy they are to stock up and dispatch.
When it comes to customer delivery, meanwhile, the automaker will be exploring how users of services like Domino's interact with autonomous vehicles. That includes factors like how they unload the vehicle, and indeed how far they'd be willing to walk to where such a service might drop off whatever it was delivering. Questions like those, Ford points out, are going to be unexpectedly topical as machines begin replacing human couriers.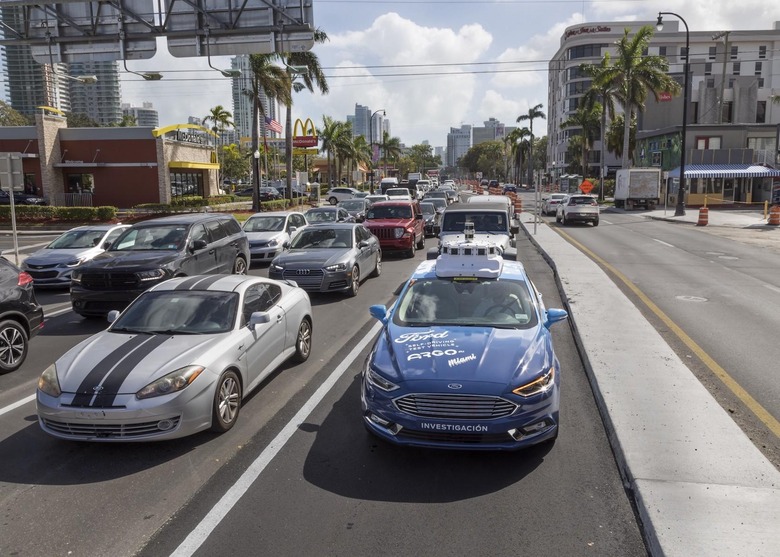 "Today, deliveries can be made to someone's door, though there is usually an extra charge involved," Sherif Marakby, Ford Vice President of Autonomous Vehicles and Electrification points out. "Oftentimes, drivers illegally double-park when they can't find a space, potentially causing traffic congestion for others. A self-driving vehicle won't need to be tipped and it won't park illegally."
Domino's has already begun its Ford delivery trial in Miami-Dade County, the automaker says. Postmates is on track to begin its trial in March, meanwhile. It's unclear at this point how many of the experimental cars, exactly, each will have on the road.
They'll share space, however, with Argo AI mapping vehicles. Also using a Ford fleet, these have already been upgraded and are currently working their way through the Miami-Dade road system, figuring out not only local laws but the driving style of the residents. That fleet is expected to grow through 2018, as Ford expands its partnership with Argo AI.
The goal is to better shape Ford's first, purpose-built autonomous vehicle for commercial use. The current cars are based on retrofitted passenger sedans; its 2021 vehicle will be designed from the ground up to satisfy customers. That won't be individuals, and you won't see the Ford driverless car in dealerships ready to be leased alongside a Fusion or an Escape. Instead, they'll be targeted at commercial users, such as for deliveries and ride-sharing services.