Ford GoBike electric bicycle sharing pilot arrives in San Francisco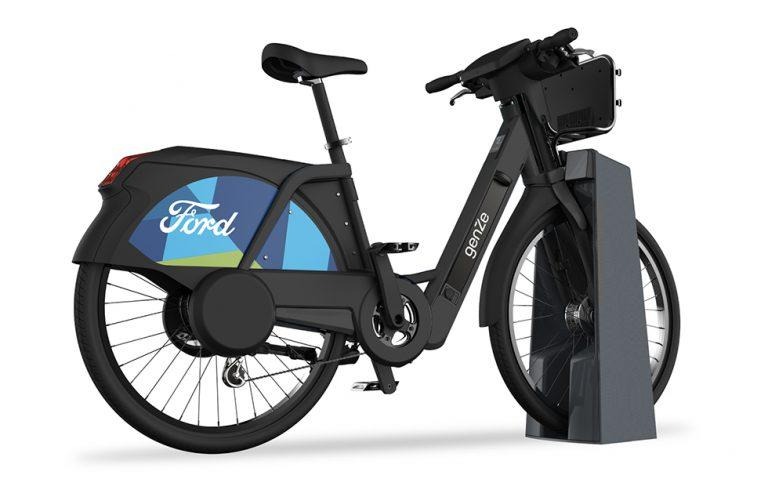 Ford's previously unveiled electric bicycle service GoBike has officially launched in San Francisco. Through it, Ford is offering the public access to 250 electric bicycles as part of an exclusively deal it has in the Bay Area. The e-bike system launchd on Tuesday with 123 bicycle docks located throughout the city. Each bike features an electric motor, battery, and a top speed of 18MPH.
Electric bicycles are an environmentally-friendly, essentially silent, and very compact way for someone to get around a city. Many "smart city" concepts have implemented electric bicycle systems as one method of public transportation, and they promise many benefits over cars: lower energy requirements, no pollution or noise, exercise for riders, less space is needed to accommodate them, and there are fewer cars on the road when they're available.
The GoBike looks very similar to an ordinary bicycle, but with obvious hardware hidden away behind a smooth, minimalist frame. Each bike is black with the exception of a large, colorful wheel logo featuring "Ford" — each bike sports a 345Wh li-ion battery, UI panel with data like battery life, and a max speed of 18MPH.
The bikes can be legally used in a city's bicycle lanes and are available for anyone to rent. These rentals are offered through the Ford GoBike app; individuals in San Francisco where the pilot launch is taking place can use their Clipper card, too. Users have the option of buying a single ride, an Access Pass, or a 3-Day Pass.
There's an optional annual membership that gives members access to the GoBikes at no extra cost, plus a Bike Share for All program in which low-income individuals received passes at $5 for their initial year. Those users get access to the bikes for up to 60 minutes per ride at no extra cost during the pilot program.
The pilot program is limited to 250 bikes in San Francisco right now, but Ford plans to expand into the other Bay Area cities in the future, eventually launching 2,500 bikes with more in the pipeline.
SOURCE: Ford, SF Examiner