Ford Fusion Energi plug-in hybrid rated for up to 108 MPGe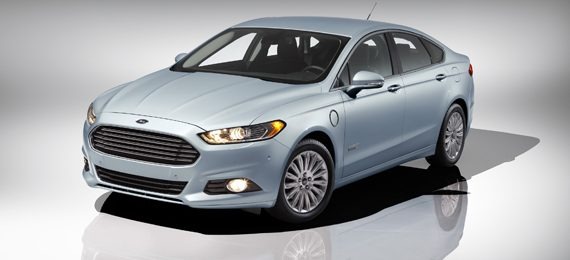 Automaker Ford has announced that the 2013 Fusion Energi plug-in hybrid will offer EPA fuel economy estimates of up to 108 MPGe in the city. That efficiency rating will give the Ford vehicle the title of the most fuel-efficient sedan in America, beating the Toyota Prius plug-in hybrid by five MPGe.
Ford is also bragging that the EPA certified the plug-in hybrid for up to 92 MPGe on the highway giving it a combined rating of 100 MPGe. Ford says that those economy figures to help customers save as much as $6850 in fuel costs over five years. Ford also took the time to talk about projected sales for Q4 2012 for hybrid and electric vehicles.
Ford is predicting that it will sell over 19,000 hybrid and electric vehicles during Q4 2012 making it the best quarter for hybrids ever. Ford predicts that over half of all its hybrid vehicle sales for the year will come during Q4. There is a bit of a dark shadow over Ford and its fuel efficiency claims.
The EPA is currently reviewing both the hybrid Fusion and the C-Hybrid over questionable fuel economy claims. Independent reviewers and owners of the vehicles alleged that fuel economy is significantly different in the real world compared to the claims Ford makes on window stickers.