Ford Fiesta ST Confirmed for North America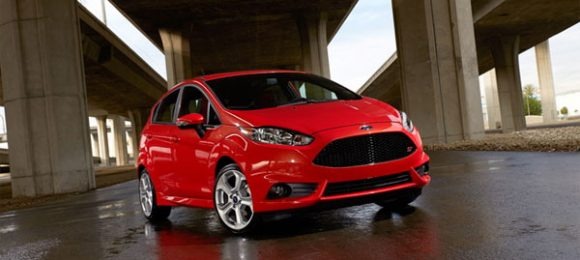 Ford has officially announced that the Fiesta ST will be coming to North America. Ford currently offers the larger Focus ST in the US, and its smaller brother the Fiesta ST should be just as fun to drive. Previously the Fiesta ST was only available in Europe, and fans of small, turbocharged hatchbacks should be thrilled to hear it's coming to the US.
The Fiesta ST will be exclusively equipped with a six-speed manual transmission. Ford expects the little car to be a segment leader in performance and fuel efficiency. Ford launched the Fiesta ST in Europe in 2005 where is available as a five door and a three-door. For now it seems US will only get the five-door version.
The heart of the little Fiesta ST is a 1.6-liter EcoBoost four-cylinder engine producing an estimated 197 hp and 214 pound-foot of torque. By comparison, the 2013 Ford Focus ST produces 252 hp and 270 pound-foot of torque. Ford also notes that 177 pound-foot of torque in the Fiesta ST is available from only 1600 RPM.
The Fiesta ST is projected to offer 34 mpg and the ST version of the Fiesta will have a unique grill and chin spoiler. The Fiesta ST will also be fitted with bright tipped dual exhaust pipes, a high mount spoiler, and 17-inch wheels. The vehicle also gets a unique suspension and a quicker steering ratio. Pricing for the Fiesta ST is unknown at this time. Hopefully, we will learn all the details at the 2012 Los Angeles auto show.