Ford Embraces Body Tracking Tech To Make Workers More Efficient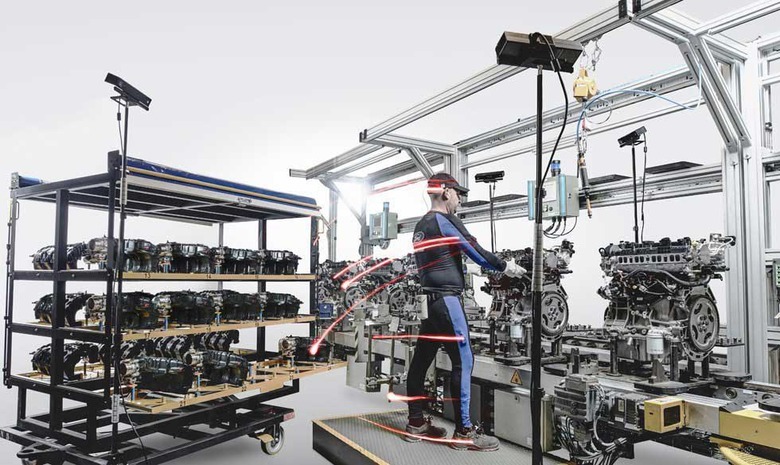 Ford really wants its workforce to be as efficient and safe as possible during their workday. This week the automaker announced that it was rolling out exoskeletons to some workers that must frequently lift objects above their heads. Ford is now showing off other tech that is meant to help it design less physically stressful workstations for line workers.
The trial is currently being conducted by Ford and the Instituto Biomecánica de Valencia in Spain at the Valencia Engine Assembly Plant. Ford is using 70 workers from 21 work areas in the pilot. Each of those workers wears a special suit that is equipped with advanced body tracking tech.
This is the same sort of tech professional athletes use to help them perfect their technique. Similar tech is also used in the video game industry to capture specific moves of humans to use in the game. Ford says that use of this tech has been proven beneficial on the sports field where it has shown that tiny adjustments can have a big impact on performance.
Ford says that the tech will be used to help facilitate changes to the workstation to help the workers be more comfortable over a long work day. Ford's engineers were inspired by a demonstration seen at a trade fair that showed how robots can replicate human movement. That tech was applied to the Ford workplace where construction of the Ford Transit Connect and 2.0L EcoBoost Duratec engines kicked off this month.
The suit that employees wear is skin-tight and has 15 movement tracking light sensor that connect to a wireless detection unit. The system is then able to track how the person moves while working and highlights head, neck, shoulder, and limb movements. Four special motion-tracking cameras capture the motion. Ergonomists then look at the recordings and help the worker align their posture correctly. Ford is considering rolling the tech out to other European facilities.
SOURCE: Ford