Ford Built This 900hp Electric Mustang To Prove EVs Can Be Muscle Cars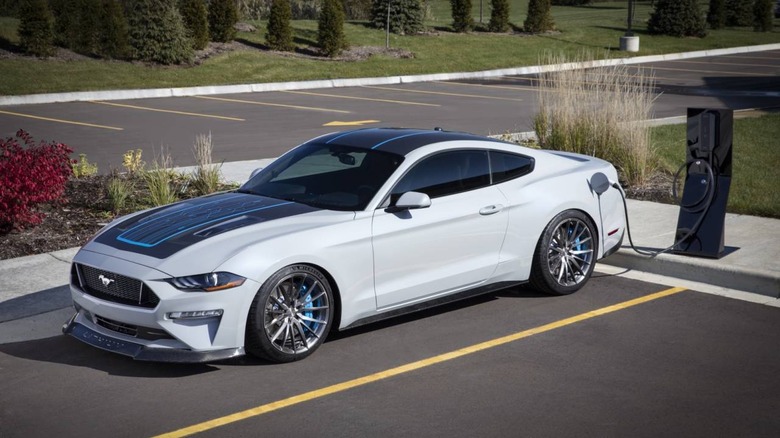 There may be a hybrid Mustang coming, but Ford's legendary pony car has gone all-electric for a custom SEMA 2019 vision of what a performance EV could deliver. Unveiled today at the Las Vegas show, the Mustang Lithium is the fruit of a collaboration between Ford and Webasto, packing more than 1,000 lb-ft of torque to play with.
Outside, the Mustang Lithium looks much like its gasoline counterpart. Ford did add new Sankuer Composite Technologies side splitters and a rear diffuser, though, along with custom carbon fiber body components. There's also a Webasto hood with embedded polycarbonate windows so that you can see what's driving the beast.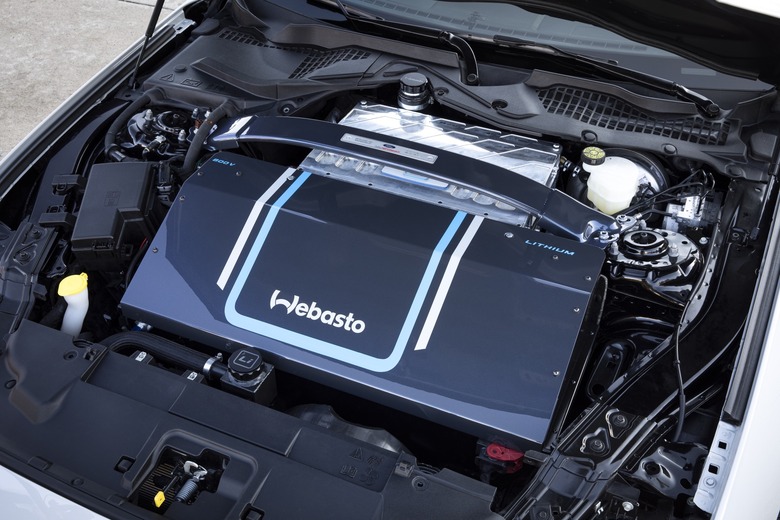 That's a Phi-Power dual-core electric motor paired with dual power inverters. It's fueled by an 800 volt Webasto battery system, and delivers not only that 1,000+ lb-ft of torque but over 900 horsepower, too. Unexpectedly, however, there's also a manual transmission.
Most BEVs don't have a transmission at all. Even the rarities that do, like Porsche's new Taycan, use just two ratios. The Mustang Lithium, however, has a six-speed manual, based on the Getrag MT82. That had to be upgraded with billet internals so as to handle the levels of torque being produced.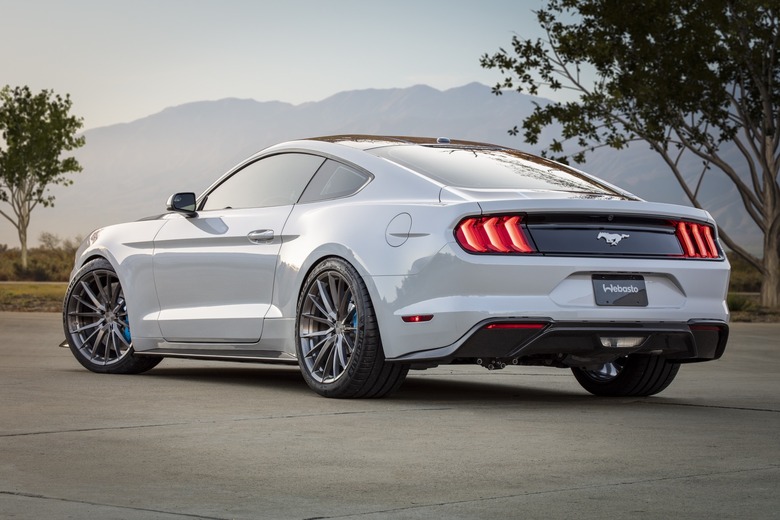 Ford Performance half shafts along with a Super 8.8 Torsen differential are onboard, and the coupe is fitted with 20-inch Forgeline lightweight wheels shod in Michelin Pilot Sport 4S rubber. The Shelby GT350 donates its six-piston front brakes, while the Ford Performance Track Handling Pack is also included, along with the automaker's strut tower brace.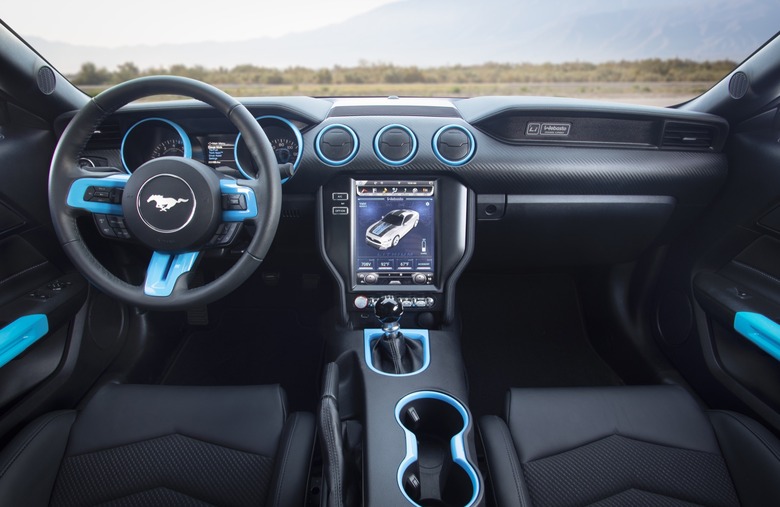 Inside, there's a 10.4-inch touchscreen embedded into the dashboard. It's a custom panel, and it offers a special EV control interface which can switch the Mustang Lithium between different drive modes. There's Valet at one end of the scale, limiting torque to avoid messy burn-outs (or worse), along with Sport, Track, and Beast modes for more performance.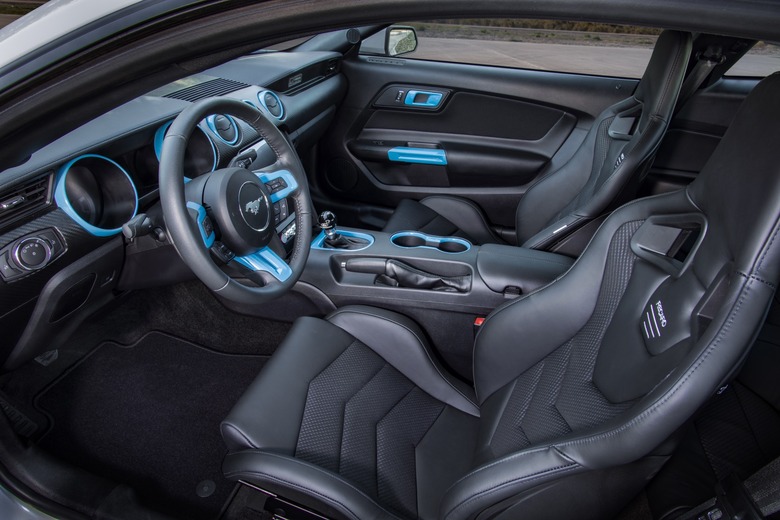 Other than those beefy torque and horsepower figures, we don't really know what the Mustang Lithium is capable of. Ford says to expect "stunning quarter-mile acceleration" but doesn't give specifics, and it hasn't shared anything like 0-60 mph times or indeed electric range.
The Mustang EV is coming
Ford is clear that the Mustang Lithium is a one-off custom car for SEMA this year, and won't be headed to production at least in its current form. What the EV does do, however, is serve as a testbed for Ford and Webasto's collaboration on battery and thermal management. That's going to be important as the automaker looks to performance EVs rather than just ones known for frugality.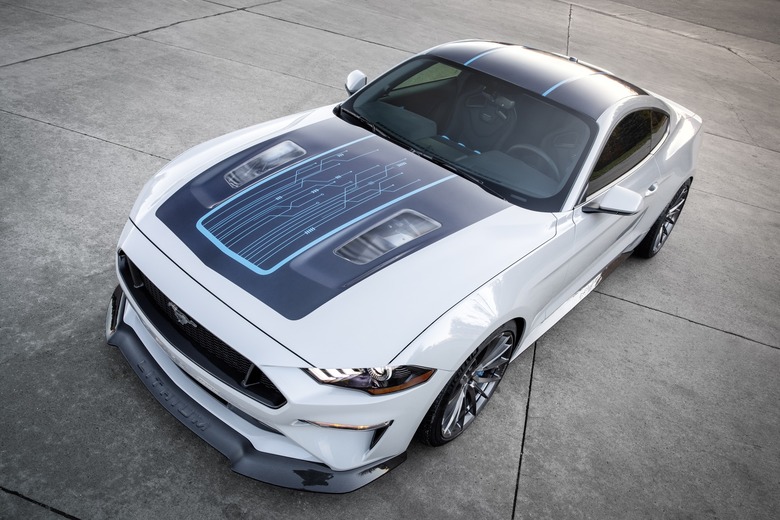 The first new Ford EV will be unveiled later this month, a Mustang-inspired electric SUV. An all-electric F-150 truck is in the pipeline, though that won't be for "a few years," Ford says. Before then, though, there'll be an F-150 Hybrid released in 2020. Ford is also working on a Mustang Hybrid, though details on that car are scant at present.