Ford and Roush create Old Crow Mustang for charity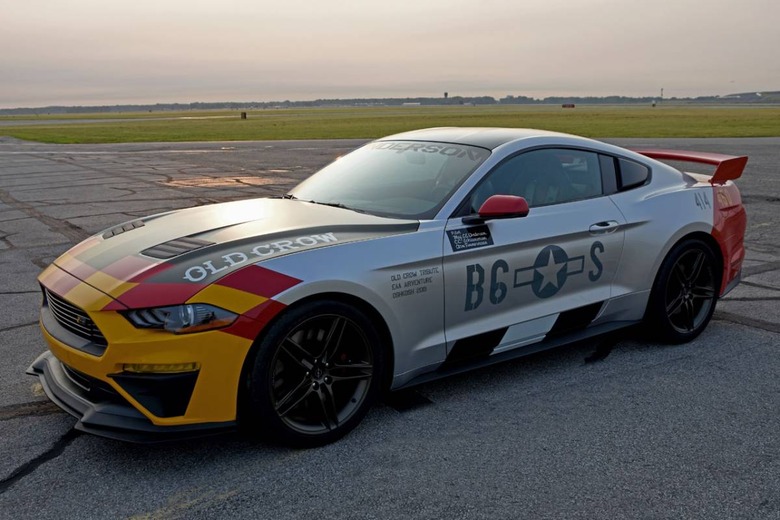 Roush and Ford have teamed up to make a one of a kind Ford Mustang GT that is to pay homage to U.S. Army Air Force Col. Bud Anderson. Anderson is a WWII triple ace pilot and flew the P-51 Mustang in combat that was called "Old Crow." The Mustang that Ford and Roush created has a livery that is based on the livery that the P-51 wore during WWII.
The custom car was built for the Experimental Aircraft Association's 2019 AirVenture air show and will be auctioned at the event. The Old Crow Mustang is the 12th custom car that Ford has built and given where all proceeds go to the EAA youth and adult aviation programs. Other than the custom paint, the Mustang also has lots of other goodies installed.
The big modification is the addition of a Roush supercharger that brings the output of the 5.0-liter V8 engine to 710 horsepower and 610 pound-feet of torque. The car is also fitted with a Roush cold air induction kit and x pipe. The Mustang has Ford MagneRide dampers, and 20-inch forged Roush wheels.
The wheels are shod in 275/35R Continental ExtremeContact sports tires. Other mods include Roush rear fascia aerofoils, Ford Performance front racing spoiler, 2020 GT500 rear spoiler, custom hood heat extractors, and rainbow blue-tinted exhaust tips.
The interior is fully custom as well with military-themed green leather and canvas along with a red shift knob and door handles. The rear seat has been removed and replaced with aluminum panels, and the car has four-point harnesses. The vehicle will be auctioned off on July 25. Ford's other cars have raised over $3.5 million over the years with the most expensive being the 2008 Mustang AV8R that sold for $500,000.