For Apple iOS is Key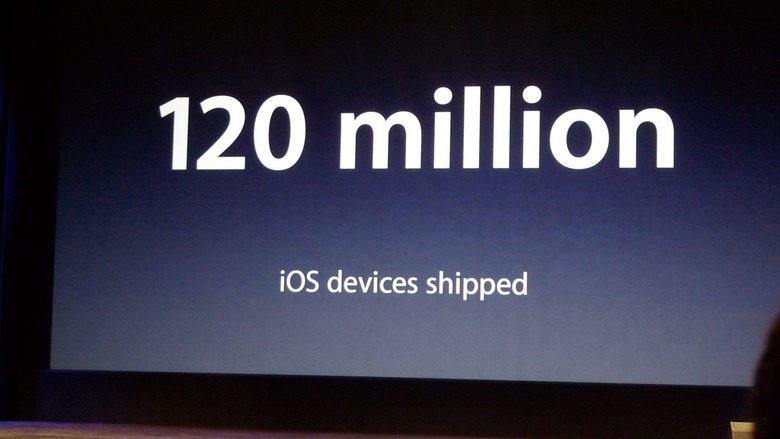 Steve Jobs rattled off a lot of numbers at Wednesday's event.   As an analyst I like statistics and making sense of statistics.   That's why the platform strategy of iOS struck me when I thought about Apple's product lineup, specifically iPads, iPhones, iPod Touches, and even Apple TV. Since these products run iOS, iOS as a platform is experiencing rapid growth and tremendous momentum.  Sometimes people only think of iOS as a platform as it relates to the iPhone in terms of growth.   The reality is there will continue to be a growing number of iOS devices on the market as Apple could potentially approach 1 billion iOS devices in the next five years.
Apple shared that to date they have shipped 120 million iOS devices.  My companies' numbers estimate that Apple sells at least 50 million iOS devices every year.  We estimate that number to grow next year, particularly as we are forecasting that Apple will sell upwards of 20M iPads alone next year.  We also anticipate demand for iOS devices to grow next year significantly since the whole market is experiencing tremendous growth.
To further showcase the momentum of iOS – Net Applications, a company that tracks worldwide web usage by hardware, released figures showing that iOS devices have surpassed Linux as the third most used operating system to browse the web.
According to their numbers iOS devices represented 1.1% of worldwide Internet traffic last month behind Microsoft with 91.3% and OS X with 5%.    Linux fell to fourth with .085%.   We believe is it also not unreasonable to believe that iOS could surpass OSX in the above figures in the next two years if not sooner.
What is even more interesting is that Net Applications shared that mobile device hardware represented 2.6% of all Internet traffic. With iOS devices having the largest share of that mobile device Internet traffic.
This validates the trend we are seeing and predicting that in the very near future Smartphones / SuperPhones will surpass PC's in global annual shipments.    Tablets and other pocket computers like the iPod touch are not included in our estimates of when Smartphones / SuperPhones will surpass PC's but if they were it would happen much sooner.