Follow Han and Chewie as they liberate Kashyyyk in the next Star Wars book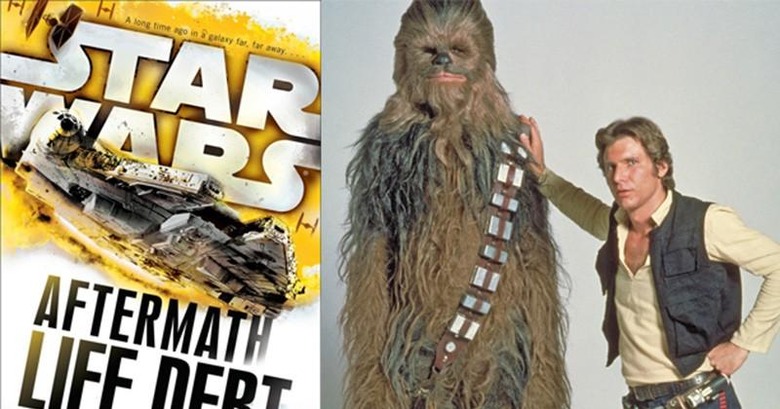 For those of us that have been fans of the Star Wars universe for decades, we used to have a pretty solid understanding of what happened after the movies. We know about Grand Admiral Thrawn, Mara Jade, the Emperor's clones, the New Jedi Order, and more. Unfortunately, when The Force Awakens was being made, all of those facts and stories were collectively dumped into the "Legends" category. As such, those stories can be thought of as some sort of alternate universe. And that means we have a lot of catching up to do with our old friends.
We already know that there's a book in the works that tells the tale of Princess Leia (to me, she is royalty). Her book, Bloodlines, follows her throughout her years as a senator, which will tell us how she ended up as a general in the Resistance. That book is due out on May 3rd. If you're more interested in what's happened to Han and Chewie, you'll be happy to know that the duo will be prominently featured in another upcoming book.
Life Debt is a forthcoming book that will fill in some of the gaps between Return of the Jedi. Interestingly, the book doesn't sound as though it stars Han and Chewie, so much as it tells a story that they just happen to get mixed up in. The book is a continuation of Aftermath, a novel which came out last year, and focused on a new group of rebel fighters.
The familiar characters from that book will cross paths with the smuggling duo, and will tackle the liberation of Chewbacca's home world of Kashyyyk. This means that the story of Han rescuing Chewie from Imperial slavers may get re-entered into canon, as they'll most likely touch on that, while freeing the rest of the Wookies.
The book will go on sale this summer, on July 19. For an extended excerpt from the book, check out the feature over at Entertainment Weekly.