Folding plug concept is incredible [Video]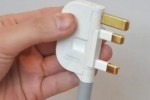 Not something our US readers will necessarily find frustrating (unless you regularly travel) but our UK contingent will probably join with me in fervently hoping this folding plug concept makes it to production.  The handiwork of Min Kyo Choi, the plug takes the usual bulky three-pin design and squeezes it into a folded slice less than a centimeter thick.
Video demo after the cut
Despite that, there are still the usual safety features.  Two wing sections fold out as a shield (revealing a useful pull-hole) and the fuse slots in via a neat holder.  Plugging in is as simple as flipping the two shorter pins around and opening up the shield.
Even better, there's a fantastic second concept for using up to three of the folding plugs with a single outlet, keeping them folded and thus squeezing in three connections into the space of roughly one traditional plug-adapter.  There's also a USB charger concept that can be used with it.  We hope Min Kyo Choi has all this patented, because we reckon there'll be peripheral and accessory companies sniffing around this concept very soon.
[via Pocket-lint]