FoldiMate removes wrinkles and folds clothes for you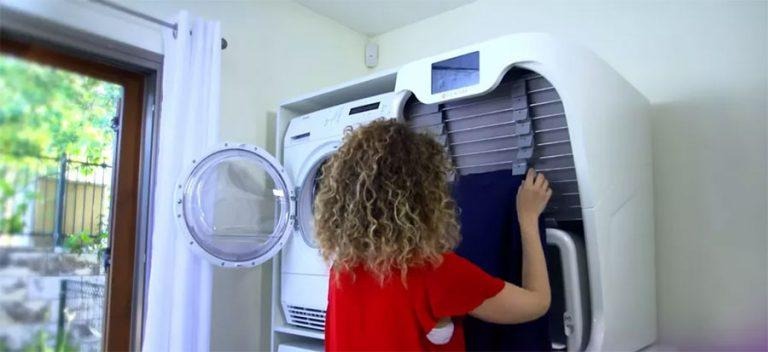 Most people loathe doing the laundry. Sure, we have machines that wash and dry our clothing for us today, but the folding and ironing that goes with putting them away means that time is still spent on laundry that most would rather use for something else. A company called FoldiMate has a machine of the same name that comes into play after you run clothing through the washer and dryer that will dewrinkle and fold your clothes for you.
The FoldiMate Family machine is 28" x 32" x 31" and is able to fold and dewrinkle most clothing items. The dimensions make it about the size of a washer or dryer and it is designed to sit on top of a washer or dryer in the laundry room. The front of the FoldiMate has a bunch of clips built in where the user hangs their clothing.

It will accept 15-20 items like shirts, towels, and pillowcases on the clips and pulls the items in one at a time to be processed. Once all the items have wrinkles removed and are folded, the machine gives the user a stack of neatly folded items on a slide out tray capable of holding 10-30 items depending on the thickness of each. The folding requires a series of internal components that fold the clothing to a default size of 9 x 11", but that size can be adjusted.
Users will be able to update the machine with different folding styles for an extra charge from the FoldiMate online store. Note that FoldiMate says "dewrinkle" not ironing; you may still need to iron clothing. The machine does perfume, soften, and sanitize laundry items during the folding process. Each item needs as much as 45 seconds to process. The FoldiMate Family machine will sell for up to $850 with the steam capability for removing wrinkles adding up to $300 to the price and treatment capsules for the softening and perfuming selling for $15-$40. Shipments are expected to begin in 2018.
SOURCE: Gizmag