Foldaway Kitchen hides mess against the wall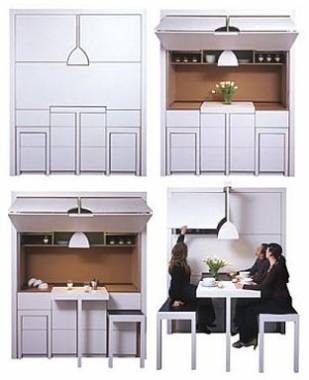 Remember that James Bond film where 007 gets flipped up in a foldaway bed and shot with a machine-gun – BANG BANG BANG! - only he's fallen out through the window and escaped via the river?  Well, ever since then I've wanted a fold-up something, perhaps not a bed because the fact that it would probably have to be made every time you wanted to pack it away would get frustrating after a while.  Happily designers Melanie Olle and Ilja Oelschlägel have obviously heard my plaintive, desperate cries and have come up with the oddly-named Grandma's Kitchen, a collapsible multi-zone cooking/eating/cleaning contraption that stores flat against the wall.
From what at first glance appears to be an architect's edge-on sketching of a table and benches comes seating and table space for four, oven, dishwasher, fridge and food preparation area.  Clever hinges mean that no ceiling support is needed for the lamp, bench or seating, which slides out with a simple touch. 
If space really was at a premium, you could actually have one of these on one side of your bedsit and a drop-down bed on the other.  Then all you'd need to do would be swap between them.  When neither was in use, you'd have the middle of the room free to practise yoga and, um, play Twister.
Yanko Design [via core77]