Foldable Surface Phone could just be a cruel tease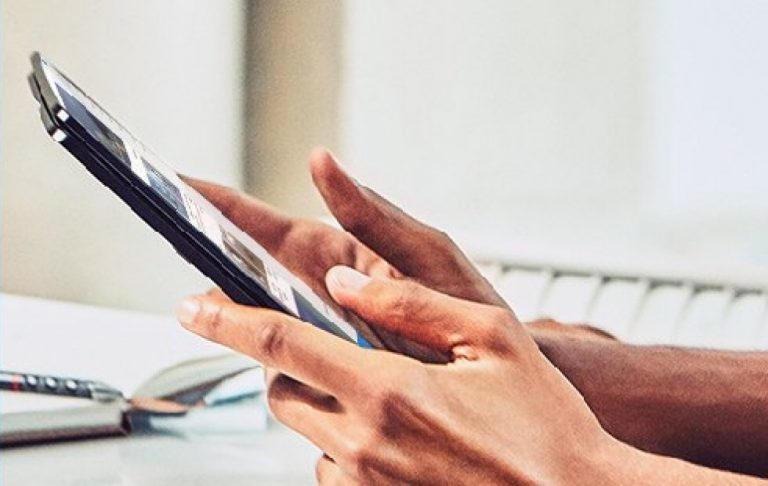 This is a tease in the truest sense of the word. Microsoft Azure's social accounts have put up what would have been a boring Node.js training ad if not for what it used to include in the image: a never before seen device that immediately calls to mind a foldable tablet or smartphone. Give how the post remains online, it's possible Microsoft didn't "accidentally" leak that image. It's more possible that Microsoft intentionally created a Photoshopped image for fun, which might also be a cruel joke for the Windows Phone loyal.
Like any other tech company, including Apple, Microsoft has dreams and even patents for foldable devices. Actually, it almost went in that direction before anyone else, until it decided it was too soon for the world to have a Courier tablet. Microsoft remains quiet on that front but it never really gave up on the idea. And like a mystery novel, it has left enough clues to keep readers on the edge of their seats.
This latest breadcrumb may be a total fake, but it is perhaps more interesting to note how Microsoft has gone out of its way to make it. It is clearly a made-up image, given some inconsistencies and lighting and quality. But there might also be some grain of truth hidden in it. Like the seeds of what may be the Surface Phone.
Hey #Devs! Learn how to develop & deploy Node.js web #apps in #Azure with this live virtual class: https://t.co/12TnoS1dgA pic.twitter.com/H1hIMlNWrM

— Microsoft Azure (@Azure) July 18, 2017
Calling it Surface Phone might be a stretch, since it doesn't look like a phone at all. But that does play into what CEO Satya Nadella once remarked, that Microsoft's next phone might not be like anything we have in the market today. Presuming that such a phone comes before Samsung puts out its own foldable entry, codenamed "Project Valley".
Of course, it could just be Microsoft having a bit of fun, but at the expense of its Windows Phone/Windows 10 Mobile faithful. It serves as a cruel reminder of how Microsoft has yet to produce any smartphone of note this year. Knowing how the Internet goes crazy over the idea of foldable phones and the Surface Phone, it may have just wanted to get people talking and looking at that ad. And it kinda worked.