Focal XS 2.1 Premium iPod speaker set & USB soundcard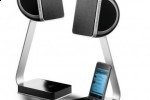 French audio firm Focal have announced a new iPod dock and speaker set, the Focal XS, intended to bring studio-monitor level sound quality to your desktop.  The Focal XS 2.1 Premium setup consists of the company's slender-necked stereo speakers and a 70W subwoofer.
One of the speakers has an iPod dock integrated into its base, together with volume controls, and thanks to a USB connection it can be used to synchronize your iPod with your Mac or PC.  There's also an integrated USB soundcard and remote control.
The two desktop speakers each pump out 30W.  The Focal XS 2.1 Premium is available now, priced at a not-inconsiderable €500 ($644).
[via GenerationMP3]