Fly Fusion Pentop Computer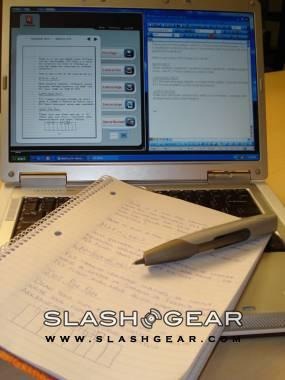 A new tech from Leapfrog called FLY Fusion pen, a portable "pen top computer" featuring an optical camera in the tip. As you write in your FLY paper notebook — containing paper with thousands of tiny dots printed on it — the pen is able to capture and digitize handwritten notes. These notes can then be uploaded to PC, and saved, organized and emailed as is, as a jpeg. Additionally, the jpeg image can be converted to Microsoft word, for easy editing.
The note-taking capabilities are obviously useful to the everyday student, but the pen also can be uploaded with software, that provides assistance on a variety of subjects — Spanish, French, Algebra to name a few. And since all work and no play.... There are also some cool entertainment applications like a sophisticated Music Studio (record and create your own music) as games like The Harry Potter Marauder's Map.
At $79.99 this is a great homework helper for Back to school, and the notebooks, priced at $7.99 with 80 pages with front and back are at a great price point.
FLY Fusion pen in action
Marauder's Map
Music Studio
Fly Fusion Pen Top Computer Fact Sheet
The FLY Fusion Pentop Computer is the next generation of LeapFrog's award-winning high speed homework system. Designed for students ages 10-16, FLY Fusion takes the FLY brand to the next level with a sleeker design, improved hardware capabilities and an expanded curriculum to better help older students.
New features include PC connectivity, four times the memory, a 1,000-word Spanish translator and an MP3 player.
Several different technologies have been bundled together to create the platform, which runs under a LeapFrog proprietary operating system.
OPERATING SYSTEM: FLY Fusion's proprietary operating system, CHORUS, helps manage directories and provides APIs to support FLY Fusion's user interface and applications. FLY Fusion has a proprietary 32-bit processor developed by LeapFrog running at a speed of 96MHz. There are 64 MBytes of Flash ROM memory, and a proprietary dot positioning system in the infrared camera embedded into each pen.
ASIC TECHNOLOGY: Application-specific integrated circuit (ASIC) has been customized to support FLY Fusion's optical sensing technology, as well as the audio and compression capabilities.
OPTICAL SENSOR: FLY Fusion has a tiny camera, optical scanner and embedded technology that can recognize letters, words and symbols when written on special dot-matrix paper. Using optical sensor technology from Anoto, FLY Fusion can determine location within Anoto's patented dot media.
DOTTED MEDIA: Anoto has created an expansive data structure – a dot pattern – that creates context for FLY Fusion. FLY Fusion's optical sensor detects a (x,y) coordinate within this data structure. That specific coordinate has previously been mapped to enable a specific function or application by the LeapFrog software engineering and publishing services teams. The "dots" can be applied to a wide variety of media, including paper, trading cards, stickers, note pads, posters, as well as on manufactured hard-line products and plastics.
CHARACTER RECOGNITION SOFTWARE: Handwriting is recognized with special software from Vision Objects that was developed, trained, and tested to accommodate the wide variety of anomalies across individuals' writing styles. The engine is based on ideal letter shapes and stroke orders rather than an artificial or proprietary system of symbolics. This same software is used to manipulate and convert the handwritten notes to text.
PHONEME-TO-SPEECH ENGINE: This engine allows the device to support a lexicon of more than 70,000 words. LeapFrog's proprietary audio compression technology enables the "voice" of the FLY pentop computer to sound robust and natural.
POWER: FLY Fusion is powered by a rechargeable lithium ion battery. Under most usage scenarios, the battery should last as long as a typical school day (about 5-6 hours).