Flow Desktop Launcher puts Android 10 Desktop Mode to the test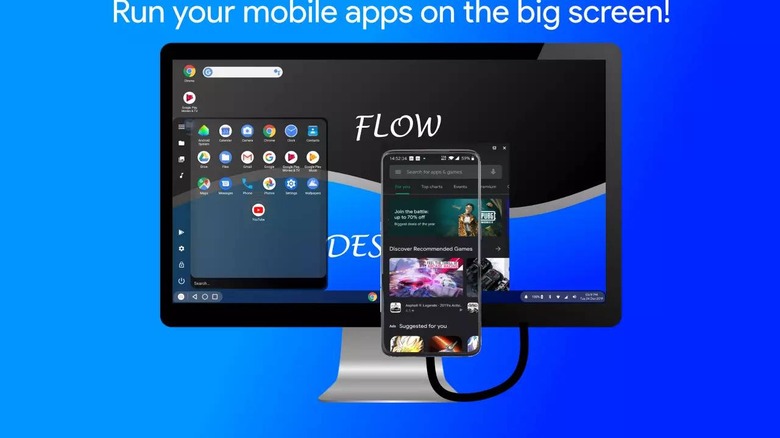 It's not unusual for Google to sneak in experimental features into Android releases before they finally launch in full a few versions later on. That is presuming they still launch in full. This strategy not only gives developers the chance to play and test the features while giving Google the opportunity to measure the public's reaction and adjust accordingly. One such "hidden" features if Android Q's Desktop Mode which thankfully at least made it to Android 10 and now serves as the foundation for a new Flow Desktop launcher that turns your smartphone into a desktop.
The idea may have been novel or revolutionary a few years back but thanks to things like Samsung DeX and Huawei Desktop Mode, the idea of giving an Android phone a desktop form when connected to an external display is almost normal. Google itself seems to be playing with the idea by including a Desktop Mode setting buried in Android 10's Developer Options. In theory, not only would it present users with a familiar desktop panel and launcher, it would also let them run Android apps in "regular" floating windows.
The basic Android Desktop Mode, however, is, well, basic and leaves much to be desired. Developer Daniel Blandford took up the challenge of creating a more proper setup for it. That's what's the Flow Desktop launcher is for, providing something like a Samsung DeX experience for phones running Android 10, at least in theory.
The developer is upfront in warning interested users that Flow Desktop is still in preview and that bugs are part of the feature list. Setting it up isn't straightforward either and requires running a program on a Windows computer first. The biggest caveat, however, is that it has only been tested to work the OnePlus 7T Pro and OnePlus 6T phones. It is also known not to work on the Essential PH-1 and any Samsung Galaxy phone with DeX pre-installed.
The Flow Desktop preview comes as a free trial but then asks for an IAP donation after a period of time to support development. It definitely doesn't sound like a small endeavor but as fascinating the idea and implementation might be, only Google knows whether Android Desktop Mode will be here to stay in the releases to come.