Flitchio smartphone case has built-in game controller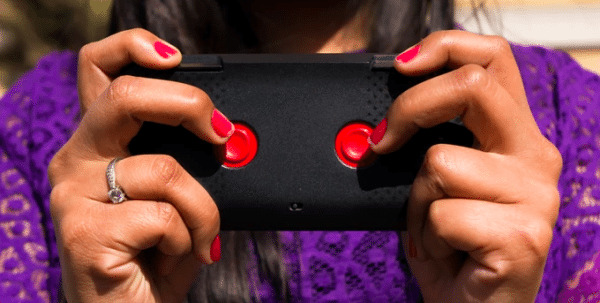 Playing mobile games by using joysticks on the touchscreen is a frustrating process. There are third-party game controllers as an alternative, and they work just fine. The problem with them, however, is that they're somewhat large and they require the user to carry them around. Enter the Flitchio, a smartphone case that has a game controller built into it. This positions a pair of flat controls on the back of the case, allowing an impromptu game to be played without having to tote around a separate controller.
The Flitchio case features two flat embedded "joysticks" in the back of the case, which attaches to the smartphone like a regular case, though perhaps a bit thicker. It connects with the smartphone and allows the user to map the buttons to perform whatever commands they'd like depending on the game.
The case features very slight curves on the end of the case, as well as textures and finishes that are meant to make it easier to grip. It is promised to be very accurate and responsive, and uses NFC technology for power. There's no Bluetooth or Wifi, so it seems you'll need a phone with NFC.
The company behind Flitchio is seeking about $77,800 USD on Kickstarter where they have so far raised more than $8500 with 28 days remaining. Those who are interested can get one of the case units with a pledge of about $61 USD. The units will begin shipping to backers this upcoming January.
SOURCE: Kickstarter