Flipswap invests $14 million to help recycle used electronics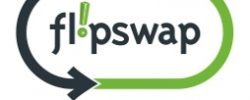 Flipswap, who claim to be the leading solution in electronics trade-ins, has announced that HGEN Partners, a leader in clean tech investing, is investing $14 million in a Series B financing round.  Flipswap provides a way for users to recycle their old handsets while getting credit toward the purchase of a new one.
In the US alone there are over 150 million brand new phones entering the mobile market each year, these phones are typically replaced every 6 to 18 months. Most users do not take the time to resell their used handsets, there are tens of millions of function mobile phones being thrown in dumpsters ending up in landfills each year.  By offering mobile customers instant credit when trading in their old handsets, this investment is not only good for the environment, it also provides economic incentives for both parties.
"Flipswap is directly tackling issues of electronic waste and environmental sustainability through a highly scalable business model," said Rosemary Ripley, managing partner with NGEN Partners. "With this investment we see significant opportunities to grow the Flipswap brand, platform and distribution footprint."
Based on many factors including the overall condition of the device, current demand and inventory levels, the Flipswap platform determines whether it is better to recycle or reuse the handset. The Flipswap program is now available in nearly 6,000 retail locations, including partners such as Amazon.com, Newegg.com and Wirefly.com. Since the launch of this company in 2005, customers have brought in over 700,000 mobile devices for reuse. Flipswap was able to keep 50 tons of solid waste out of US landfills in 2007 alone. In an effort to offset carbon emissions created by recycling, the company launched a program called reLeaf that will plant an estimated 25,000 trees by the end of 2008.