Flipboard sees red in China launch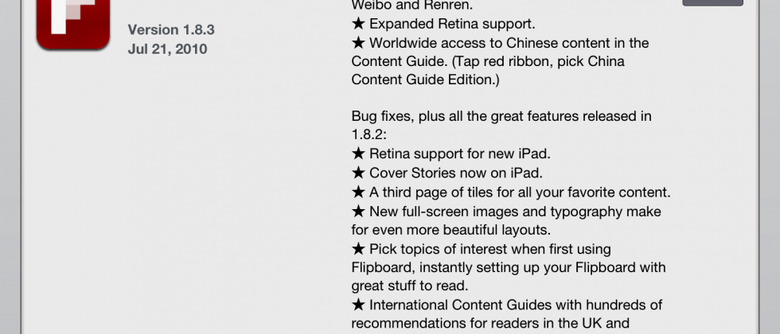 Auto-curating digital magazine Flipboard has begun its assault on China, with a new update adding support for social networks Sina, Weibo and Renren, along with new Chinese content. The app automatically pulls in news and articles from users' Facebook and Twitter contacts, but in a v1.8.3 update today, Flipboard introduced China-specific social network support so as to make a more convincing play for the market.
Thanks to China's firewall and limits on western social networks including Facebook and Twitter, users there have turned to home-grown alternatives for their communication. They can now be used as Flipboard information sources; the company also has its own, curated selection of China-related news, which can also be accessed by users outside of the country.
Meanwhile, there's also "expanded" Retina Display support for the new iPad, building on the initial support added in the last release. That release added full-screen images and made social sharing information more prominent, so that readers can get a better idea of what content is popular before tapping through to read it.
Flipboard is a free download for iPhone and iPad; you can grab it here [iTunes link].