Flipboard Digital iPad Magazine Auto-Curates Twitter & Facebook Content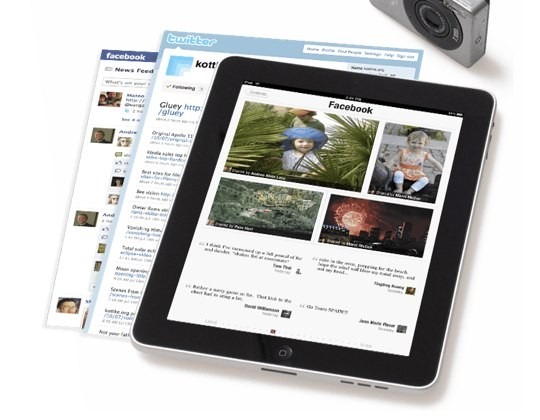 Twitter is abuzz with talk of Flipboard, the latest news reader for the iPad and another attempt to pull curated content down onto Apple's slate.  Unlike the Pulse News Reader, Flipboard pairs pre-selected content feeds with links shared by your Facebook and Twitter friends; logging into your respective accounts allows the app to show you a custom digital magazine of the news, videos and other links they're currently sharing.
Video demo after the cut
At least, that's the idea.  Right now the Flipboard servers are obviously having trouble coping with the demand, and so attempting to register your Facebook or Twitter credentials throws up an error message.  You can still read the standard content, however, which has a slick page-turning animation and all the shifting, tappable boxes you could hope for from a digital magazine.
We've been trying Flipboard out, and it certainly presents content nicely; this really is the kind of thing that the iPad was meant to do.  Unfortunately there are still some gaps; server support is one and so is the excerpting of articles: you only get the first few paragraphs, and then have to tap through and read the remainder on the source webpage.  It does at least open up within Flipboard, rather than throw you out to Safari, but you miss out on the slick formatting.  Still, as a free app we can't complain too much; check it out here [iTunes link].