Flipboard buys Zite for a smarter newsreader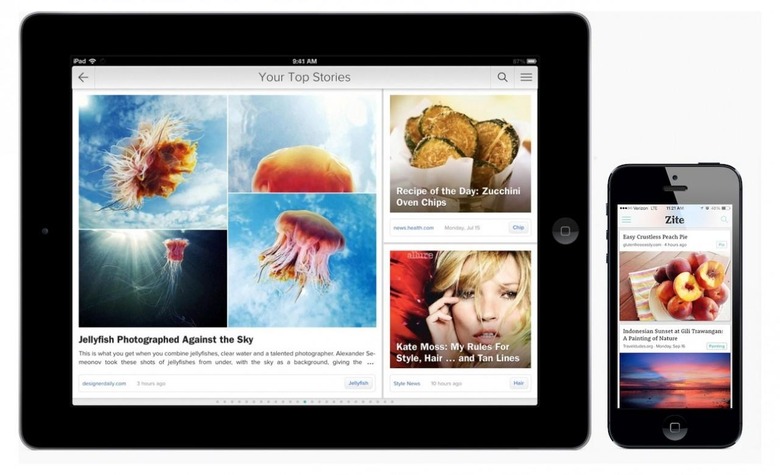 Flipboard has bought rival newsreader Zite, spending $60m to bring the CNN app under its control, and with plans to integrate its technology into a single product. Zite, which CNN itself acquired back in 2011, aimed to deliver a personalized set of news articles by analyzing each user's interests, their social networks, and what they actually read. Unfortunately, it also means a death knell for the Zite app.
The deal won't mean CNN washing its hands entirely of involvement, however. Flipboard and the network have announced a partnership to develop custom magazines for select shows on the network, CNN reports, using Flipboard's existing curation tools.
Shows featuring anchors like Fareed Zakaria, Jake Tapper, and John King will all get custom Flipboard magazines, its been confirmed.
Flipboard's app is similar in many ways to Zite, using a combination of preset feeds and social networking shares to build virtual magazines themed around different topics. However, it lacks the specific personalized learning abilities that Zite had refined, which could help make the app "stickier" for users by surfacing more relevant articles.
"By bringing the Zite team and technology to Flipboard," CEO Mike McCue said in a statement, "we can deliver an even more personalized experience to every Flipboard reader."
The newsreader app space has grown more competitive in recent months. Earlier this year, Facebook launched Paper, its own iPhone app promising curated and socially-refined news based on a user's social networking profile.
Update: Zite co-founder Mike Klaas has commented on the deal, confirming that the Zite app will be shut down after its features are reintroduced into Flipboard. There'll be a tool to transport Zite data into Flipboard, Klaas says, but support for the existing app will continue "for six months at a minimum".
Flipboard CEO Mike McCue has also commented, as has Zite ZEO Mark Johnson, who has confirmed he will not be joining Flipboard himself.