Flip Video Ultra and Ultra HD launched
It comes as no great surprise, given they're already on Best Buy shelves and we've seen a photo unboxing, but Flip Video have officially announced their new Flip Ultra and Flip UltraHD camcorders.  Both boast 2hrs-worth of storage (2GB in the second-gen Ultra, 8GB in the new UltraHD) and have Flip's distinctive pop-out USB plug and preloaded FlipShare editing and distribution app.
Each camcorder can run off two standard AA batteries or Flip's own rechargeable battery pack; the latter is supplied with the UltraHD, and an optional extra for the Ultra.  Resolution is 640 x 480 for the basic model, 1280 x 720 for the HD, and each has a 2-inch transflective, anti-glare display and basic controls.
As you might expect, the UltraHD swaps the Ultra's composite connection for an HDMI port.  The Flip Video Ultra is available in black, white, yellow and pink, with an MRSP of $149.  Meanwhile the Flip Video UltraHD is available in black or white (with chrome trim) with an MRSP of $199.99.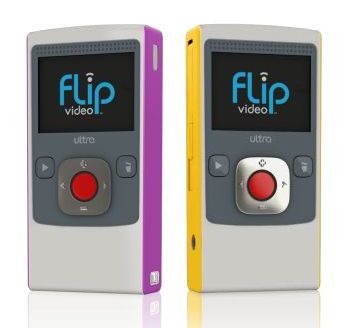 Press Release:
Flip Video™ Introduces All-New Flip Ultra™ and Flip UltraHD™

Best-Selling Camcorder Line Now Offers a New HD Model, Double the Memory and a Larger Screen

Pure Digital Technologies, Inc. – the maker of the acclaimed Flip Video family of camcorders – today announced the second generation of its Flip Ultra line, America's number-one selling camcorder since its debut in 2007. Now available in both high-definition and standard-resolution models, the new line offers everyday consumers the easiest and most affordable way to capture and share high-quality video. The new Flip Ultra and Flip UltraHD feature two hours of recording time, a large high-resolution two-inch screen, and convenient battery recharging through the built-in USB arm.

"The original Flip Ultra changed the way the world captures and shares video by making it easy, accessible, and, most of all, fun," said Jonathan Kaplan, chairperson and CEO of Pure Digital. "Our new Flip UltraHD takes this to the next level by making it incredibly simple and affordable for anyone to capture and share hours of video in stunning HD."

The new Flip Ultra and UltraHD camcorders set a new standard for convenient and affordable video capture. Both new models offer a full two hours of recording capacity, a bright two-inch transflective screen for no-glare viewing even in direct sunlight, and an innovative AA rechargeable battery pack that can be conveniently recharged through the camera's built-in USB arm. The Flip Ultra is priced at just $149.99, while the Flip UltraHD sells for $199.99.

Like all Flip Video camcorders, the new Ultra line is pre-loaded with FlipShare™, the on-board software that leads consumers seamlessly through the process of organizing, editing and sharing videos. Consumers simply plug the built-in USB arm directly into any Mac or PC to begin sharing their videos immediately.

The second generation Flip Ultra camcorder promises to build on the success of the Flip Video family, which has sold more than 2 million camcorders since first introduced less than two years ago. The Flip Ultra continues its reign as the number-one selling camcorder in the U.S., while the Flip MinoHD, launched last November, is currently the top-selling HD camcorder in the country, both according to first quarter 2009 rankings from leading market research firm The NPD Group.

Flip UltraHD Camcorder Features:

SRP: $199.99

Colors: Black, White (with chrome trim)

Video Resolution: High Definition, 1280 x 720

Records: 2 hours (8 GB built-in memory)

Screen: 2 inch – transflective (anti-glare)

Batteries: 2 x AA (rechargeable AA battery pack included)

TV Output: Widescreen with HDMI™ output

Zoom: 2 x Digital

Flip Ultra Camcorder Features:

SRP: $149

Colors: Black, White, Yellow and Pink

Video Resolution: 640 x 480

Records: 2 hours (4GB built-in memory)

Screen: 2 inch – transflective (anti-glare)

Batteries: 2 x AA (optional rechargeable AA battery pack sold separately)

TV Output: SD Composite Video

Zoom: 2 x Digital