Flip Mino camcorder landing June 4th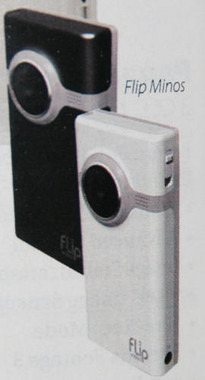 If Creative thought they could smack down budget camcorder rival Flip with their recent Vado and get away with it, it's time for a reality check.  An eagle-eyed browser has spotted Flip's latest model, the Mino, in B&H's print catalog, and it's likely to be the company's retort to the Vado's "dramatically thinner and lighter" claim.  So far, little is known about the camcorder, aside from its $179.99 price-tag, choice of white or black casing and June 4th release date.
Presumably it's a smaller, lighter version of the existing Flip Video.  The pop-out USB port looks to have moved; it was previously on the side, and now, although it's hard to make out, it appears to have shifted to the top of the camcorder. 
Internal storage and what definition the Mino can record at is also unknown, though given that it's considerably more than the $99.99 Vado it's a fair assumption that one, or both, of those factors will be increased.  The Vado has 2GB of non-expandable memory and captures at 640 x 480 VGA.
We'll bring you more information on the Flip Mino when we get it.
[via Crave]