Flickr updates iPhone app with friend mentions and more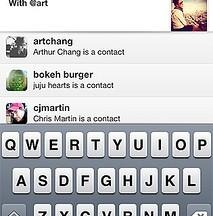 Flickr has released an update for its iPhone app, bringing with it a handful of new features and some improvements that make the service altogether more fun to use. After updating, users will find that they can now mention friends directly from the app rather than having to use the desktop, in addition to some other improvements. User can grab it now from the App Store.
With the updated app, iPhone users can now create more social interaction with photographs thanks to the ability to mention friends via the app itself. This is simple enough, using the rather conventional mention method of "@person," which will pull up a list of contacts. From that list, a contact can be selected, and a description or a comment provided. That friend will likewise receive a notification letting them know they've been tagged.
Another useful feature that has been added is the ability for a user to download his or her own images from their Flickr account to their iPhone. The downloaded images will be added to the handset's camera roll, where they can then be uploaded elsewhere or shared in a message. The images are automatically downloaded in their highest resolution; the setting to accomplish this can be found under the "Sharing" menu.
Last but not least is the improvement in speed, which provides substantially faster uploads over the previous version. This is accomplished using two methods: "magic" in photo optimization has been implemented, and users can now add titles and descriptions while the upload process is happening, eliminating the need to wait and making the overall process faster.
[via Flickr]