Flickr for iPad released after Apple's iPad Air 2 debut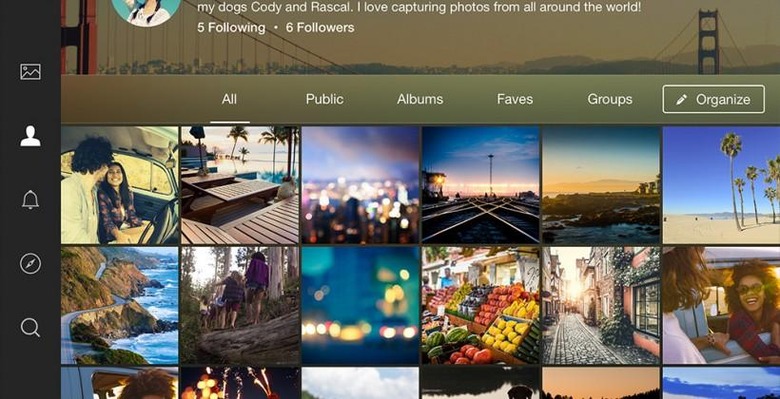 Only one day after Apple announced its latest tablets, the iPad Air 2 and iPad Mini 3, photo sharing service Flickr used the opportunity to release a brand new universal iOS app, finally bringing a long-awaited native version to the iPad. While Instagram may be the photo-sharing king on iPhones, Flickr remains a popular network due to its all-encompassing desktop site, as well as its innovative iPhone app.
Back in April of this year, Yahoo-owned Flickr released a completely re-designed iPhone app, adding now-standard editing tools and photo filters, as well as limited, pre-iOS 8 sharing features. This new update, on the other hand, takes full advantage of iOS 8's share extension, not to mention using the larger real estate available on retina iPad screens.
The new app now requires iOS 8, and the first thing iPad users will surely notice is the wider layouts, in both landscape and portrait orientations, showcasing more beautiful images as they browse the network. Flickr highlights how scrolling through photos is displayed in "a lovely waterfall format." When you want to view an image full size, Flickr's iPad app will let you behold a high-resolution version, with as many as 3 million pixels.
Should you be one of the few dedicated iPad photographers, Flickr has you covered, allowing photos and video to be captured in-app with live filters, along with a number of editing tools. Members also have the ability to change their account's user and background photos, as well as update their profile with a bio and links. Flickr 3.2 is available for free on the iOS App Store, and is compatible with both iPad sizes, and the new iPhone 6 and 6 Plus.
SOURCE Flickr