'FlexCase' project puts e-ink secondary display inside phone case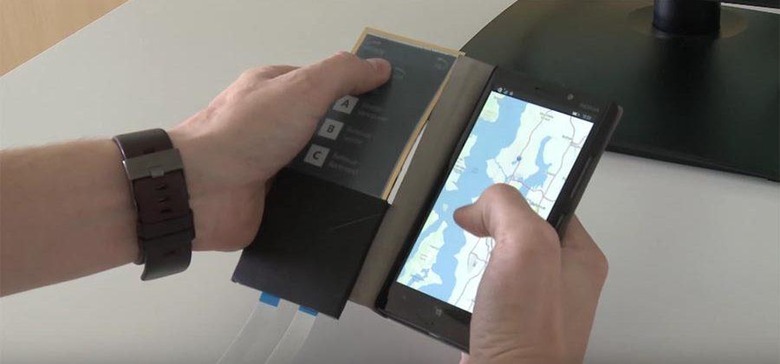 Microsoft Research and the University of Applied Sciences Upper Austria have teamed up to create "FlexCase," a prototype smartphone case that features a secondary e-ink display for extended touch-based activities. The display isn't just for displaying data, though — sensors coupled with flexible panels allow the user to control the main display using various taps, bends, and twists.
The display is detailed in the video below — it involves a flexible e-ink panel and an equally flexible panel with sensors able to detect pressure and movements. This pressure-and-bend-sensitive panel can be used to enable various actions, such as bending a corner of the panel to turn a page on the smartphone's display or pressing to copy over content from the phone's clipboard.
It's somewhat like the YotaPhone, the smartphone with an e-ink display on the back, but it includes features that extend beyond that, as described in the video. Though in rough form now, a market version would be integrated into the inside of a phone case, resulting in a case unlike any currently available on the market.
Whether the possible uses shown in the video are enough to draw in users is another matter — while certain things could be useful, it is doubtful many would find it better to bend the corner of a secondary display to turn a page rather than just flicking the smartphone's display itself. Its best uses would be as more real estate for content, such as the example where text is displayed on the e-ink display and media content, such as videos, are shown on the smartphone display.
VIA: Gizmodo