Flash Survivor 32GB By Corsair - Unboxing And Pics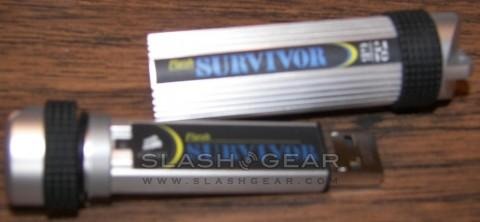 So I got a package from FedEx today, inside was the Flash Survivor 32GB model, its new, and its hot, not literally though. Inside the package were the flash drive tube thingy, a USB extension cable, and a Corsair dog tag/chain that I chose to put the flash drive on along with the dog tag.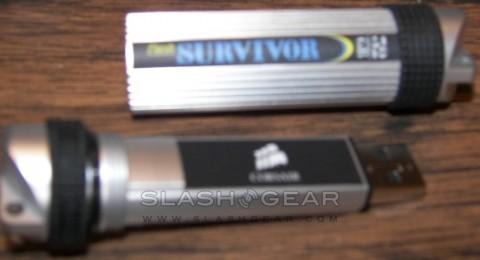 In case you didn't already know, the Flash Survivor series from Corsair is a flash drive in a nearly indestructible casing. Its made from really strong CNC milled, anodized, aircraft grade aluminum, they are water resistant up to 200 meters (that's probably more than some of my diving equipment), and they are impact and vibration resistant. I have seen videos on YouTube of people running these things over with cars, trucks, a whole slew of things and no damage other than scratches coming of it, who knows, I might even make my own such video.

With 32GB of space, on a bootable USB 2.0 flash drive, you can store a lot of photos and music, up to 16 full length HD movies, or several operating systems that you can boot directly into (I wonder how hard it would be to multi-boot from a flash drive?). With these Corsair flash drives you also get the driver and some security software pre-installed and a 10 year limited warranty, not a bad deal.

Alongside the release of the 32GB Flash Survivor, they also released the 32GB Flash Voyager which is a slightly less rugged version of the same flash drive, it is still waterproof to a lesser extent and can take a fair beating, but if you need something really rugged, stick with the Flash Survivor series. In the Survivor series they now have 4, 8, 16, and 32 gigabyte capacity flash drives with an 8GB Survivor GT that has some faster data transfer speeds.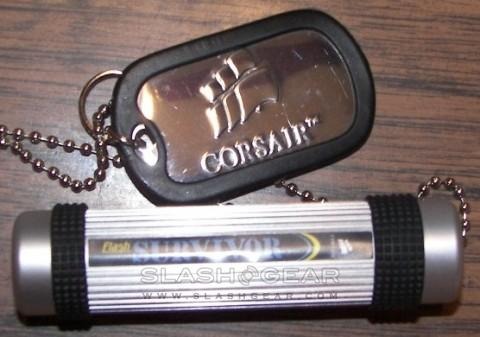 The 32GB Flash Voyager is $229.99, cheap compared to other 32GB flash storage solutions, and the 32GB Flash Survivor is $249.99, slight pricier, but it's more durable, and for 32GB of flash storage, its still cheap. I have pictures for now, and I'll have video to add as soon as it's done uploading/processing.