Five Nights At Freddy's Short Video Will Scare You Ahead Of The Movie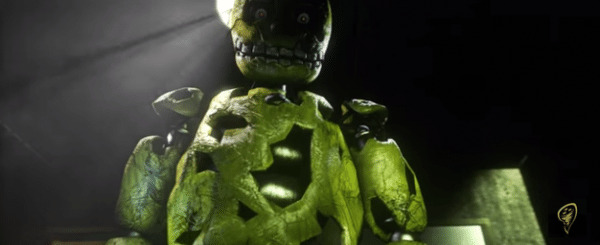 In case you somehow missed the news, the mobile horror game "Five Nights at Freddy's" will be making its way to the big screen. More details on that later. What we have in the meantime is a fan-created short video that has production quality far outpacing what we typically see in fan videos, and it offers a glimpse of the game's world that is simultaneously exciting and frightening. We don't yet know what to expect from the movie, but if it's anything like this, the future is looking bright.
The fan movie was developed by Typhoon Cinema, and thought it's only 1:21 long, it feels a bit longer. Production quality is top notch, and there's a bit of a jump at one point (we'll let you guess when), so prepare yourself for it.
According to Typhoon Cinema, they worked with Deviant Pictures Films to create the video, which has original music and sound effects made especially for the short. The soundtrack was by Kevin Sargent, and it is available on SoundCloud for those who are interested.
As for the theatrical movie, we don't know many details on it at this point, but according to Seth Grahame-Smith the film will be an "insane, terrifying and weirdly adorable movie." Check out the timeline below for more!
SOURCE: Kotaku