Five Nights At Freddy's 4: first game trailer arrives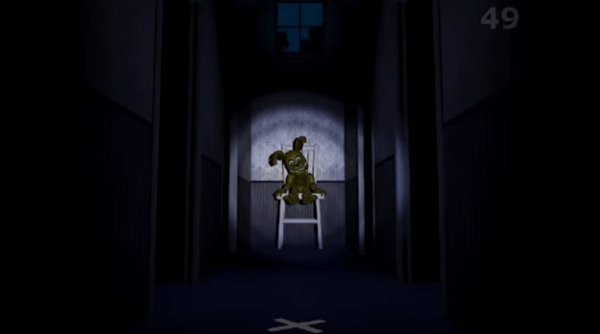 The game Five Nights at Freddy's 4 became official in late April following a big tease, and early this morning fans were greeted with a change to the game's release date: it'll be arriving on August 8, leaving less than a month's wait; previously the game was set to be released on Halloween, but instead Halloween will mark the arrival of a game expansion. Following that the game's first (and perhaps only) game trailer has been released, and it makes a big change over the previous games.
"What game do you think you are playing?" the trailer asks. It shows a light illuminating a hallway in a home over and over again. "What have you brought home?" it asks. Then we get a look in a bedroom, and in a hallway again, and there the first surprise lies in wait.
The obvious deviation is that the game is not set at Freddy's — rather it takes place at home, the gamer's home by the looks of things. There are horrors in the closet, on the bed, behind your back...animatronic monsters lie in wait in all sorts of nooks and crannies.
There aren't any more details beyond that — neither about the game nor the expansion pack that fans can expect in October. For those unaware, the game is also being made into a movie. Check out the timeline below for more details!
VIA: Kotaku