FitBit wirelessly uploads your exercise data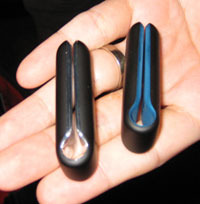 If you enjoy working out regularly, FitBit might be a nifty device to add to your fitness arsenal. It clips on your clothes and keeps track of your exercise routine for you.
With a built-in motion sensor, the device acts as a pedometer and so much more. FitBit doesn't just count your steps. It tracks how many calories you've burned, how far you've travelled, the intensity of your exercise, how well you're sleeping and more.
All of this data is then transferred wirelessly over to the FitBit website. Once there, you can compare how well you're doing to other users. When the device launches this December, it is rumored to have an OLED display. You will also be able to create an avatar for yourself that reflects your progress. You'll be able to get your own FitBit this fall for $100.
[via Boing Boing Gadgets]